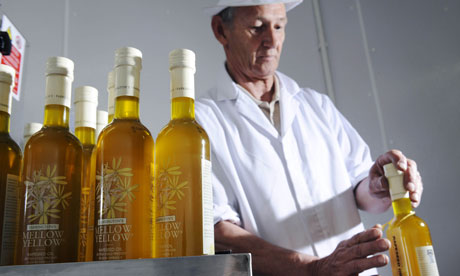 We'd rather not admit to this, but it looks like we forgot one in our quest to get to know oils. Consider this an addendum.

Rapeseed oil, derived from the rapeseed plant, is on the up-and-up in the food world, quickly climbing the ladder of condiments that are in vogue. The neutral, slightly bitter oil has actually been around for a long time - it was used on the steam engines of the industrial revolution. (What we can't tell you, unfortunately, is why it suffers such a horrible name.)

After bouncing back from an FDA ban (for containing high levels of erucic acid), lower-acid, safer strains were developed by farmers in the 1970s and since, chefs have been drizzling the bright yellow, neutral oil on asparagus and bread in high-end kitchens everywhere. If we're going to keep up, it looks like we've got something new to add to our pantries.

The rise of rapeseed oil from The Guardian
Our new kitchen and home shop,
Provisions
, is coming soon!
Sign up now
and get $10 when we open.
Tags: what we're reading, the guardian, oil, rapeseed oil