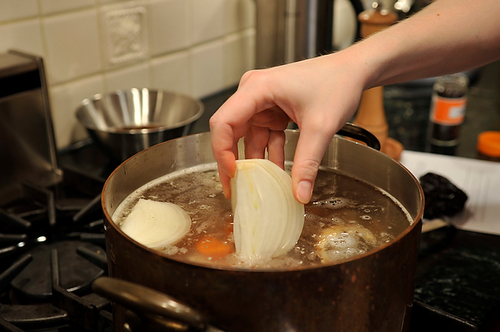 Likening motherhood to homemade fish stock isn't the most obvious comparison, but when you think about the depth and richness both can bring to our lives, it starts to make a little more sense. Food writer Christine Rudalevige explains via Whole Foods Market Cooking how simmering fish bones with vegetables and white wine has the uncanny ability -- much like our mothers -- to restore peace and harmony at the dinner table.
Making fish stock is relatively easy -- it takes under 45 minutes, and you likely have most of the ingredients already on hand. If you haven't broken down a whole fish yourself, you'll need to call ahead to a fishmonger to preserve some bones and a fish head for you. Once you've acquired the rack bones, Rudalevige suggests sweating them for 10 minutes before adding water to the pot, an essential step borrowed from acclaimed chef Jasper White. The rest is fairly straightforward. Once that warm, silky liquid slips into your next batch of chowder, you'll understand why fish stock and a mother's embrace aren't all that different after all.
Fish on Fridays from Whole Foods Market Cooking
Provisions
, our new kitchen and home shop, is here!
Get $10 off your first purchase of $50 or more.
Visit Provisions.