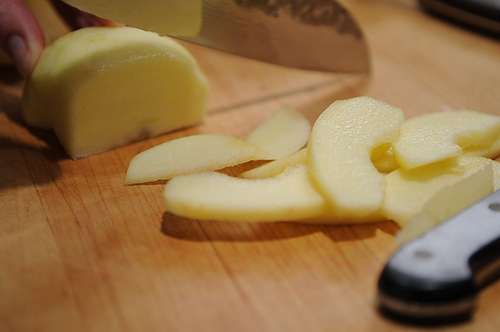 "The apple was the first fruit of the world, according to Genesis." The opening line of Jane Grigson's Fruit Book is about fall's most celebrated fruit: the apple.
Whether the Tree of Good and Evil's apple was a Golden Delicious or tart Granny Smith remains unknown. The truth, however, still stands that it is a fruit perfect for plucking. Biblical lore aside, the apple's seasonal debut is always fall (no pun intended) and what better way to celebrate it than to bake a cake.
This French Apple Cake, presented and perfected by Cook's Illustrated demonstrates the French penchant for dessert with fruit. This cake is light and fluffy, a cross-breed between a light tea cake and clafouti, and can easily be served as a dessert, afternoon tea treat, or even a sweet breakfast. The addition of egg yolks makes it extra spongey and the Granny Smith's distinctive tart taste marries well with the batter. Get the full recipe below, and it you haven't already, start celebrating the arrival of fall.
French Apple Cake from Cook's Illustrated