The Communal Table: Thanksgiving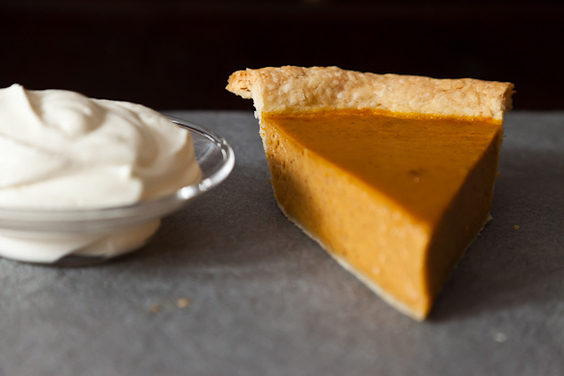 With Thanksgiving quickly approaching, it's that time of year again -- when we #pullupachair for the virtual Thanksgiving Potluck hosted by our friends at the Food Network. Last year we contributed Sonali's Mashed Potatoes with Caramelized Onions and Goat Cheese, but this year we've decided to take on dessert. Pumpkin pie, to be exact.

Meta Given's Pumpkin Pie is a quintessential Thanksgiving classic with a "Genius" twist: swap out condensed milk for fresh cream and milk to make a pie that only needs a quick 25 minutes in the oven. We know that cooking Thanksgiving dinner is no small feat, but you'll be thankful that you saved enough time to squeeze in a glass of wine before your guests arrive.
Get more Thanksgiving recipes below from our food friends on the internet, and follow the virtual feast on Twitter: #pullupachair
Cocktails, Appetizers, Salads and Breads:
Devour: Maple Pecan Baked Brie
Liquor.com: Spiced Thanksgiving Cocktails
Mains:
FN Dish: Black Pepper-Pomegranate Molasses Glazed Turkey
Sides:
YumSugar: South-Meets-West Squash Casserole
Food Republic: Caramelized Onion and Prosciutto Macaroni and Cheese
Healthy Eats: Kid-Friendly Gluten-Free Honey-Cherry Stuffing
Desserts:
Food52: Meta Given's Pumpkin Pie
Food.com: Maple-Frosted Pumpkin Bars
BlogHer: Pumpkin Spice Caramels
Thanksgiving Leftovers:
EatingWell: Turkey and Leek Shepherd's Pie
The Daily Meal: Ultimate Leftover Thanksgiving Turkey Sandwich
Eatocracy: Stuffpuppies
Tags: pull up a chair, Thanksgiving, reciprocity, pie, pumpkin pie, holiday