The Tournament of Cookbooks -- Day 8
16 of the best cookbooks of 2012. A whole slew of talented and opinionated judges. 1 prize: the coveted Piglet trophy.
Welcome to Day 8 of the Piglet! Let's get right to it.
Round One, Decision Eight:

Judged by: Chris Ying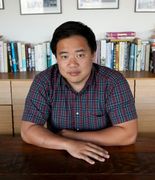 See the decision here.
Not enough Piglet for you? Don't worry, we have more:
Tags: piglet, 2013, tournament of cookbooks, day 8