Articles Tagged "food52 updates"
And now a break from our regularly scheduled programming: Amanda and Merrill are sharing some very exciting news regarding the future of Food52.
Read More »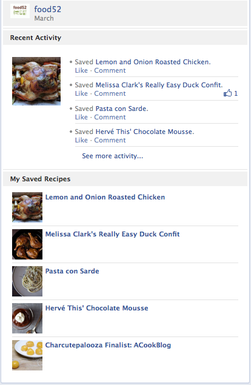 Exciting news -- thanks to the hard work of our fantastic team of developers, you can now save recipes from FOOD52 to your Facebook Timeline! The screenshot above is what the app looks like; we hope you'll use it to share your favorite recipes with your Facebook friends.
Using the tool is easy:
• There's a new button on the left of each recipe page: Save to Facebook.
• When you click on that button, you'll be asked to log into Facebook (if you aren't already).
• Then, and you only have to do this once, you'll be asked to authorize the FOOD52 Timeline app. We promise that we'll never, ever post to your Facebook wall without your knowledge.
• After you've authorized the app, it will post to your wall in a special FOOD52 box. It's an easy way to share your favorite recipes!
We'd love to hear what you think of the app. Let us know if you have comments or questions!
Read More »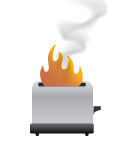 Calling all Hotliners!
We're proud to announce a new feature on the Hotline next week: Office Hours, in which our favorite cookbook authors, chefs and producers will be on the line to help with your questions about cooking in real time.
Kicking off Office Hours is Melissa Clark, award-winning New York Times food columnist and author of over 30 cookbooks including The Piglet 2011 contender Cook This Now.
You might try asking Melissa for the best variations on her famous crunchy kugel, or get advice on which herbs to add to her genius duck confit. She'll do her best to answer your burning cooking questions!
Here are the details:
• Melissa Clark will be answering questions on Thursday, March 29 from 3-4pm EST from the Hotline, Twitter, and our FOOD52 Hotline iPhone app (download it free here).
• On the Hotline & Hotline app, be sure to include #askmelissaclark in the Title of your question.
• On Twitter, be sure to include #askmelissaclark and @food52hotline in your question so we can find your tweet!
See you on the Hotline!
Read More »