Articles with Tag matching "haricot verts"
Lots of green in Walker and Addie's lunches these days. Amanda describes one of her warm-weather standards:
My springtime cheat: artichokes, asparagus, and peas. I use frozen artichoke hearts and peas, mix them in a saucepan with lots of olive oil, thyme, a smashed garlic clove, and salt, then cook them, covered, over medium high heat, just until heated through and any liquid is cooked off. Then I take the lid off, let them cool until just warm, and fold in thinly sliced asparagus. It stays a little crunchy, which I like.
I make a bunch and keep this in the fridge all week, adding lemon juice or sherry vinegar, plus more oil, when serving. Here, I paired it with Moonlight Chaource from The Amazing Real Live Food Co., and triple chocolate espresso cookies for dessert.
Read More »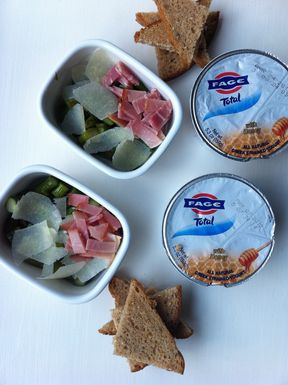 What's in the twins' lunchboxes this week? Take it away, Amanda:
Roasted asparagus and haricots verts, chopped, and topped with wide shavings of pecorino and diced smoked ham. I like to cut things into small bits so they can scoop it up with a spoon, and then use the same spoon for the Fage (whole milk!) yogurt with honey. Oh, and whole grain bread on the side, cut into kid-size triangles.
Looks delicious!
Read More »