Articles Tagged "weikiwa tangelo"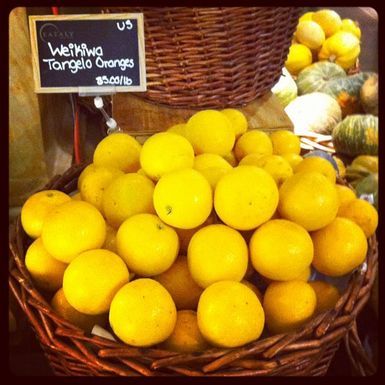 Our associate editor Kristy stopped at Eataly yesterday to pick up some ingredients for today's photoshoot. On the way she spotted these beautiful yellow-orange citrus labeled Weikiwa Tangelo Oranges and stopped to snap a quick Instagram shot with the caption, "Exciting citrus alert! What do you know about these beauties?"
Not too long after, we had an answer! FOOD52er, Instagram user, and biologist roguehousewife shared her knowledge with us:
WEKIWA TANGELO, unusual hybrid between a Sampson Tangelo and an unspecified (we would call it "mystery") grapefruit. The irresistible result is a very juicy tangelo which looks and tastes like a pink grapefruit (red-blushed pulp, yellow rind), but is sweet like a tangerine, and the size of one. Sometimes known as pink tangelo (or "Lavender Gem"), it can be substituted for grapefruit. Easily separated into 12 segments with few seeds. I can't wait to taste these! Fruits ripen in January. Self fertile. Zones 8B-10.
We'll definitely be returning to Eataly to buy these -- and we'll keep using Instagram to share mystery fruits and vegetables to see what we learn!
Read More »