Fresh Pear, Fig, and Prosciutto Tart with Rosemary Cornmeal Crust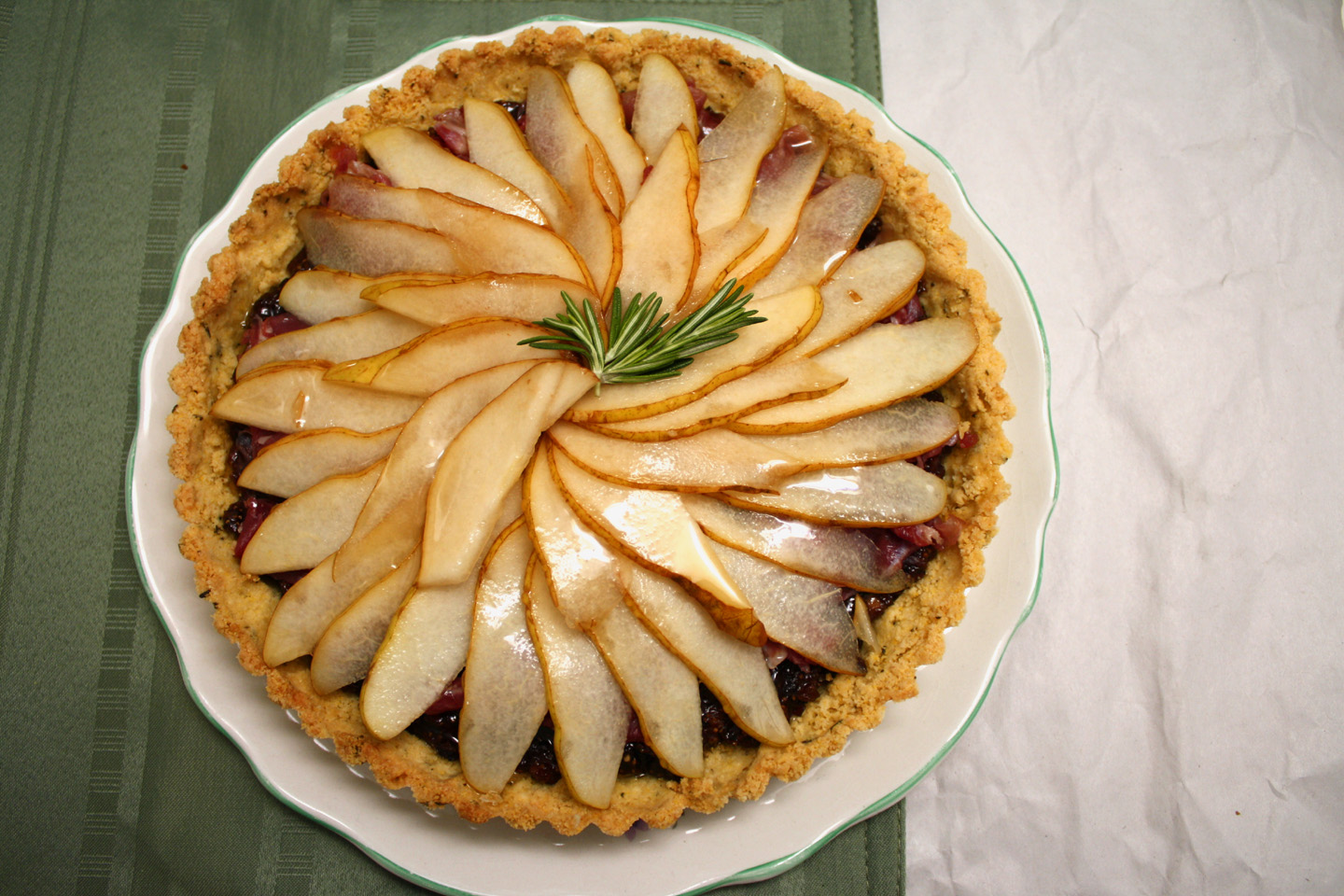 Author Notes: I made a bruscetta the other day using prosciutto, fresh pears, and some chopped stewed figs and enjoyed it so much I've been wanting to combine the flavors into something else. When I saw this tart contest, I thought about how I could incorporate it into a tart and thought a rosemary cornmeal crust would showcase the flavors beautifully. - amybroun
Serves 8-10 appetizer-sized portions
Savory Sweet Fig Spread
7

ounces dried figs (stems removed), chopped

1/2

cup sugar

3/4 cup + 2

tablespoons water

1

tablespoon flour

1

tablespoon balsamic vinegar
Combine in pan, boil over low heat. Reduce heat and stir til resembles jam, about 25 min. Cool to room temperature for use on Fresh Pear, Fig and Prosciutto Tart with Rosemary Cornmeal Crust (recipe below).
Fresh Pear, Fig and Prosciutto Tart with Rosemary Cornmeal Crust
1 1/2

tablespoon fresh rosemary

1 1/2

cup all-purpose flour

1/2

cup yellow cornmeal (not stone ground)

2

tablespoons sugar

1/4

teaspoon salt

1/2

cup cold unsalted butter, cut into pieces

4-5

tablespoons ice water

1 3/4

ounce blue cheese crumbles

1 1/3

cup or 1 recipe Fig Spread (see above)

4

ounces Proscuitto, roughly chopped

1

juicy fresh pear, cut in half, cored, and thinly sliced

1-2

tablespoon honey
Put rosemary in food processor and process til chopped. Add flour, cornmeal, sugar, and salt to food processor and pulse. Add butter and pulse until mixture resembles course meal with some small (roughly pea-size) butter lumps. Drizzle evently with 4 Tbsp ice water and pulse until just incorporated. Gently squeeze a small handful. If it doesn't hold together, add more water, 1/2 Tbsp at a time, pulsing after each addition and continuing to test.
Press dough evenly onto bottom and up sides of 9 1/2 inch tart pan. Chill crust until firm, about 30 min.
Preheat oven to 400. Bake crust in middle of oven until center and edges are golden, 25-30 minutes. Remove from oven and sprinkle with the blue cheese. Leave cheese to soften on warm crust for 1-2 min. When slightly softened, spread cheese around crust (small offset spatula works best). Cool crust in pan on rack or in fridge until no longer hot.
When crust is cooled, spread Fig Spread evenly over crust. Sprinkle chopped Proscuitto evenly over tart. Arrange pear slices in 2 concentric circles over tart. Drizzle with honey and garnish with rosemary sprig if desired. Serve immediately (tart should not be served after refrigeration because crust will be too hard when cold).
Jump to

Comments

(

2

)