Roasted Butternut Squash And Amaretti Tart With Brown Butter Sage Crust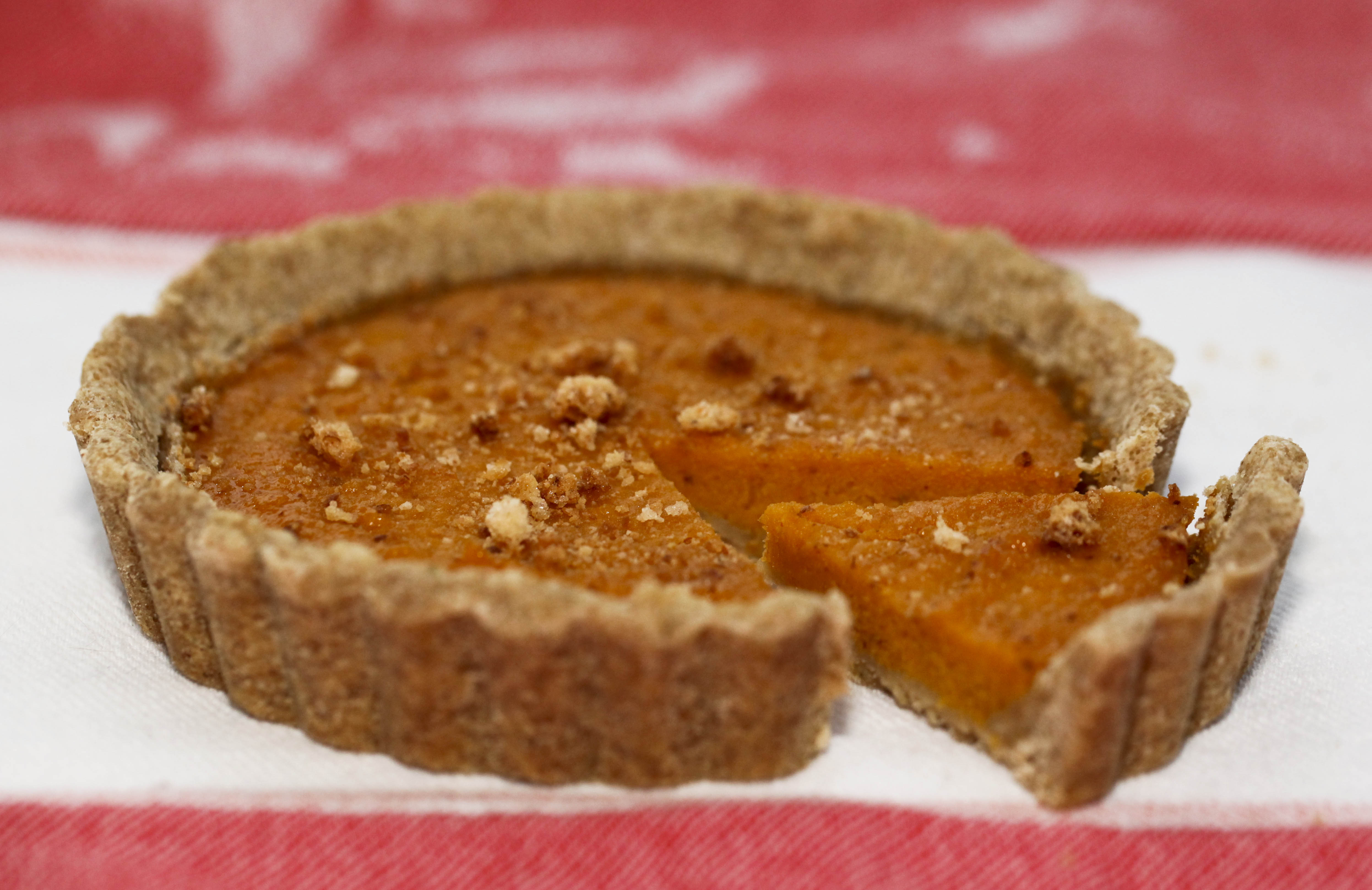 Author Notes: This recipe is a play on one of my all-time favorite meals- butternut squash ravioli with a brown butter sage-infused sauce. For the dough, I added my own twist to David Lebovitz's "French Tart Dough Recipe"- posted to his website May 1, 2009. - MEW
Makes 1 9-inch tart
Brown Butter Sage Tart Dough
6

tablespoons unsalted butter, cubed

1

tablespoon canola oil

3

tablespoons water

1

tablespoon brown sugar

1

tablespoon sage, finely chopped

1/4

teaspoon salt

1 cup(s) plus 1

tablespoon all purpose flour
Preheat oven to 375 degrees.
Heat butter in a saucepan over medium high heat until it begins to brown and give off a nutty aroma. Immediately remove from heat.
When brown butter has cooled enough to work with, add the next 5 ingredients (through salt) and stir to combine, incorporating the brown bits on the bottom of the pan.
Add the flour to the brown butter mixture, stirring until a ball of dough forms. Remove dough and press evenly into a 9-inch tart pan with a removable bottom.
Using the tines of a fork, prick the dough all over and bake at 375 degrees for approximately 12-15 minutes, until lightly golden. Cool before adding filling.
Butternut Squash Amaretti Tart Filling
3 1/2

cups butternut squash, roasted

1

egg, lightly beaten

1/2

cup amaretti cookies, finely ground (plus 4 crushed cookies for garnish)

1/3 cup(s) plus 1

tablespoon grated parmesan cheese

1/4

teaspoon freshly grated nutmeg

1/4

teaspoon salt
Preheat oven to 375 degrees.
Add all ingredients in the bowl of a food processor with the chopping blade attached (reserving the 4 crushed amaretti cookies for garnish) and process until smooth.
Pour the butternut squash amaretti filling evenly into the cooled tart shell, smoothing top, and bake at 375 degrees for approximately 35 minutes, or until filling is set.
Remove from oven and immediately garnish with reserved crushed amaretti cookies. Cool on a rack for approximately 10 minutes and remove from tart pan.
Jump to

Comments

(

7

)
Tags: brown butter, Desserts, sweet, tart