Hip Ricotta-stuffed Zucchini on a Tomato Bed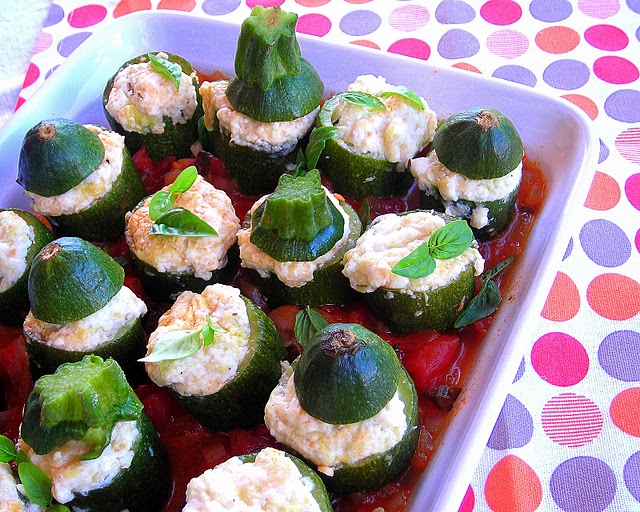 Author Notes: The ricotta remains creamy and the zucchini become zesty when steamed with the tomato sauce!

I wanted to make a stuffed zucchini that wasn't filled with the usual meat stuffing, to satisfy my vegetarian readers. The night before I was going to make this recipe, Angelo of "Top Chef" won a challenge with a risky "cucumber cup" - he saved me from making cucumber boats!

- hip pressure cooking
Serves 4-6
3

Wide Zucchini

1

cup Fresh Sheep's Milk Ricotta

1/2

cup Bread Crumbs

14.5

ounces Chopped Tomatoes

2

Garlic Cloves, pressed

1

bunch Basil, chopped

1

bunch Thyme, woody stems removed

1

bunch Oregano, stems removed

Salt and Pepper
Slice the zucchini in 1.5" thick rounds - reserve some of the most attractive stems and ends for decoration. Scoop out the innards to 3/4 the depth (about 1" deep) to make little cups. In the pressure cooker, with the top off, add a little olive oil, the zucchini innards, pressed garlic cloves and salt and pepper to taste. Cook until they are softened and set aside in a mixing bowl. Do not clean the pressure cooker.
When while the zucchini innards are still warm (this will help with softening the ricottoa), mix with ricotta, bread crumbs, thyme, oregano and salt and pepper. Stuff the zucchini.
Back in the pressure cooker, soften the chopped onions with a little olive oil and add the chopped tomatoes, basil, and half a cup of water.
Place the steamer basket in the pressure cooker on top of the tomato sauce. Place the stuffed zucchini cups (and reserved ends) on the steamer basket. Close and lock the lid and bring the flame to high. When the pan reaches pressure count 3 minutes of cooking time using LOW pressure. When the time is up, lift the valve and release all of the vapor.
Open the pan, and with tongs, carefully pull out the zucchini cups and place them on a serving dish. If the tomato sauce is still a bit watery, you can do a second round of zucchini cups. Otherwise, keep the flame on to reduce it a bit, then pour the tomato sauce onto a serving platter.
If you could not fit all of your tomato cups in the pressure cooker in the first batch, and your sauce is already reduced, just add two more cups of water in your empty dirty, tometoey pan (keep the flavor); replace the steamer basket; and steam the rest of the zucchini cups as directed.
Tags: Italian, Slow Cooking, zucchini