Roasted Asparagus Lasagna
2
Save
If you like it, save it!
Save and organize all of the stuff you love in one place.
Got it!
If you like something…
Click the heart, it's called favoriting. Favorite the stuff you like.
Got it!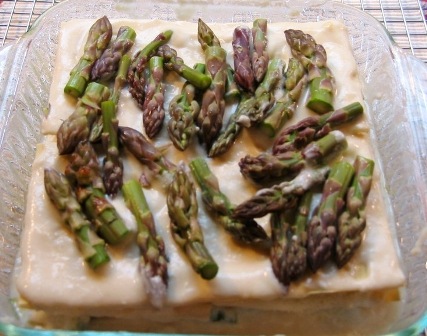 Author Notes: This is a "must have" recipe as soon as the Asparagus is ready for harvest! Originally adapted from Gourmet a few years back I've been adding my own touches ever since, such adding mozzarella and using a ricotta filling, and if using fresh ricotta, I like using its infused whey (link below) to make the sauce. From time to time I add chopped roasted red pepper as well, a great flavor combo.

When not using infused fresh ricotta whey, an infused white sauce or bechamel, works nicely. Note: vegetable stock instead of a white sauce is very tasty and the way Gourmet makes it.

Below is the onsite link to my infused whey recipe, you can also use it to infuse milk for a white sauce:
http://food52.com/recipes/6791-infused-ricotta-whey

Finally, I love using no boil lasagna noodles for this recipe, some packages say to wet these noodles down before working with them…but I found that just letting the dish sit refrigerated for at least an hour after assembling gives the dry noodle enough moisture before baking.
- lapadia
Serves 9 - (8 x 8 baking dish)
1 pound asparagus, trimmed, tips cut off and reserved

2 tablespoons extra-virgin olive oil

3 tablespoons unsalted butter

3 tablespoons all-purpose flour

1-1/4 cup infused ricotta whey (link provided above) or **see below

**1-1/4 cup infused white sauce or 1 cup vegetable stock plus 1/4 cup water, in place of infused whey

4 ounces mild goat cheese

1-1/2 cups ricotta cheese

1/4 cup flat leaf parsley – finely chopped

Fresh grated zest from one lemon

1/2 cup micro-plane grated Parmesan, plus 1/4 cup extra for garnish

8 Mozzarella sheets

6 (7 by 6 1/4-inch) sheets instant (no-boil) lasagna
ROAST ASPARAGUS: Preheat oven to 425 degrees F. Cut the tips off the asparagus stalks and reserve for topping the lasagna. Coat a roasting pan with olive oil, add the asparagus stalks - toss to coat all sides. Roast for 10 minutes. Cool and cut into bite size pieces.
Combine the ricotta cheese, parsley, lemon zest and 1/2 cup parmesan cheese – set aside until needed.
In a saucepan melt the butter, add the flour, stir and cook the roux over a moderately low heat for 3 minutes.
Add the infused whey to the roux in a stream, whisking. Simmer the mixture for 5 minutes. Add the goat cheese and continue to whisk until the sauce is smooth – pepper to taste, I don't add salt because all the cheese is usually enough. Note: This sauce will be used for 3 layers.
OR...if using an infused white sauce, add 1-1/4 cup herb infused milk in a stream, whisking. Simmer for 5 minutes and at this point follow the instructions above, beginning with adding the goat cheese. Note: substitute for white sauce, a vegetable broth/water mixture as noted in the ingredient list is the Gourmet way and very tasty.
Arrange 2 sheets of pasta in an oiled 8 by 8-inch baking dish. Spread 1/3 of the sauce over the pasta sheets and top with 3/4 cup ricotta mixture. Top the ricotta with 1/2 of the roasted asparagus stalks and finish with 4 mozzarella sheets.
Add a second layer of the same - 2 pasta sheets, 1/3 portion sauce, the rest of the ricotta, rest of the asparagus stalks and 4 mozzarella sheets.
Layer on the last 2 sheets of the pasta, add the remaining sauce and arrange the reserved asparagus tips over the top.
Let the assembled dish sit covered in the refrigerator for at least an hour. Preheat the oven to 400 degrees F.
Garnish with 1/4 cup parmesan. Bake for 45 minutes, or until golden and bubbling. Let it stand for 20 minutes before serving.
Optional - an extra scatter of shredded mozzarella on top, before baking, too!
Tags: serves a crowd