Potato Salad with Sauerkraut, Buttermilk and Horseradish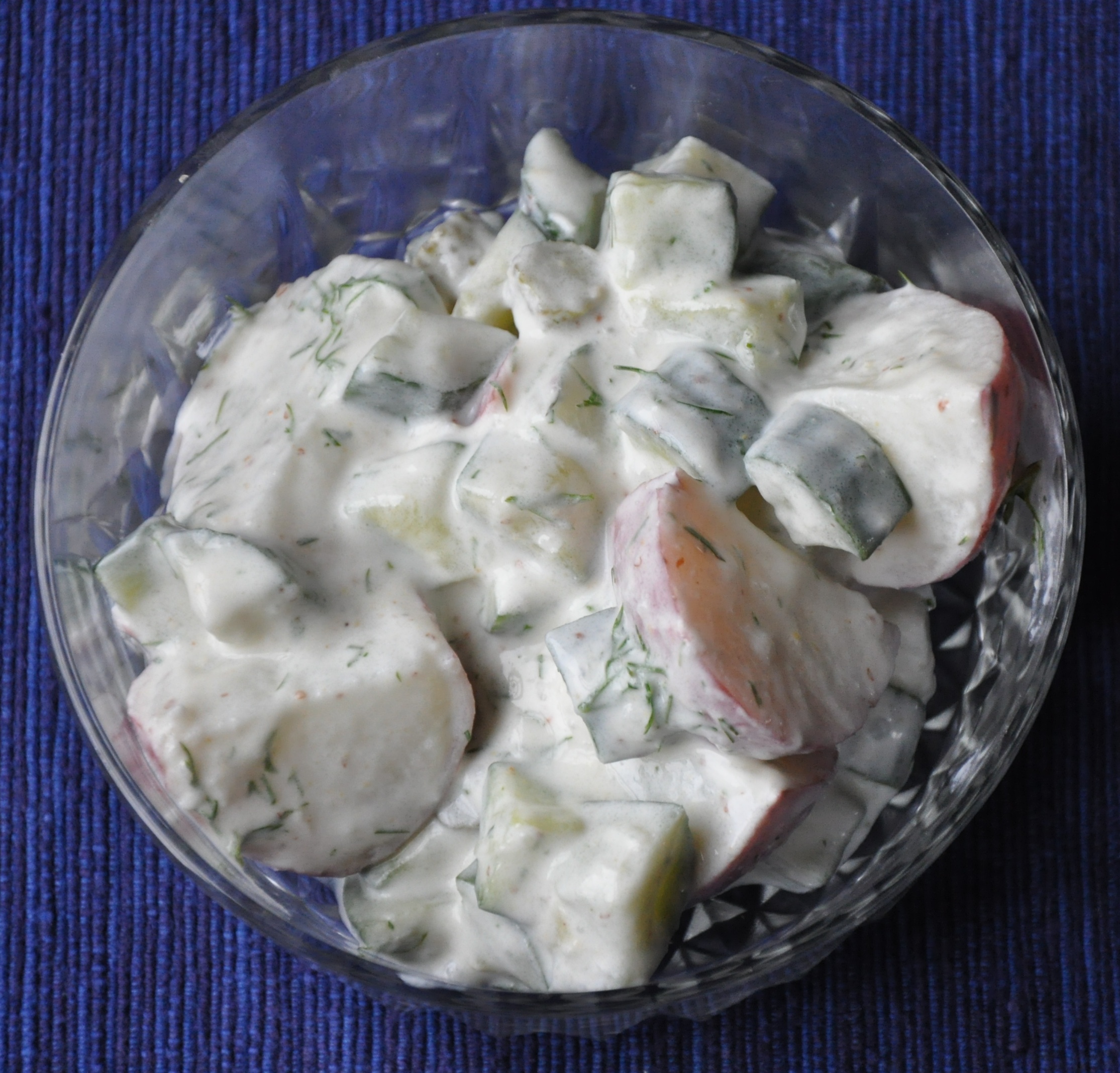 Author Notes: A few years ago, I discovered chlodnik, a cold soup made with sour cream, buttermilk, sauerkraut juice and, in some places in Eastern Europe, beets. Since then, I've been using sauerkraut juice in all kinds of things. You can't get enough sauerkraut flavor in this potato salad with just the juice (though I have yet to cook the potatoes in sauerkraut brine-flavored water, which I think might work well), so I blend up the sauerkraut itself instead. You can use sour cream instead of buttermilk if you like. Enjoy!! ;o) - AntoniaJames
Serves 4 - 6
1 ½ pounds small red potatoes

Salt

2 medium Persian cucumbers

3 heaping tablespoons sauerkraut, drained, or more to taste

2 tablespoons mayonnaise (or more to taste) (See note below.)

1 tablespoon buttermilk (or more to taste)

½ teaspoon prepared horseradish

½ teaspoon stone-ground mustard

1 tablespoon chopped sour pickles (kosher dill full sours or cornichons)

3 tablespoons chopped fresh dill, or to taste

Freshly ground pepper
Cover with potatoes with cold water, bring to a boil, then simmer with a good pinch of salt until just firm-tender.
Meanwhile, scrub and dice the cucumbers, then toss them in a small bowl with a pinch of salt. After about 10 minutes or so, rinse thoroughly and drain.
Coarsely chop by hand, and then puree the sauerkraut using an immersion blender, adding a bit (but just a small amount) of sauerkraut juice if necessary.
When the potatoes are done, drain them and let them cool just until you can barely tolerate handling them. Slip the skins off -- you should be able to do it by gently pressing and rubbing with your thumbs -- and cut into halves or quarters, according to size. Immediately toss gently with the blended sauerkraut.
Whisk together the mayonnaise, buttermilk, horseradish and mustard.
Toss the potatoes with the drained cucumber dice, the chopped pickles and the dressing. (If you're taking this salad on a picnic and it will be a while before you eat, reserve the cucumbers and add them at the last minute. They weep, making the sauce too watery, when left in the salad for more than 20 - 30 minutes.)
Shortly before serving, add the dill and ground pepper (and the diced cucumber, if you reserved it) and correct the salt, if necessary. Toss gently.
Enjoy!! ;o)
NB: If you're concerned about using mayonnaise in a salad for a picnic when the weather is warm, substitute 1 tablespoon of sour cream whisked until thoroughly blended with 2 tablespoons of nice quality olive oil. Add a small pinch of salt to the salad as well.
Jump to

Comments

(

0

)