Ricotta Malfatti with Roasted Pepper, Pistachio, and Yogurt Sauce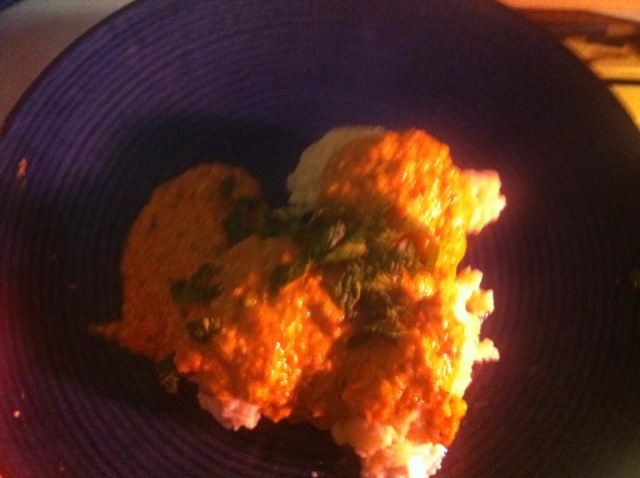 Author Notes: The malfatti are roughly Mark Bittman's recipe for what he calls ricotta gnocchi. But in typical minimalist style he has you drop dough into the pot of boiling water by the spoonful instead of shaping into neat little ovals with fork indentations. This results in a misshapen dumpling--malfattii. Bittman's recipe is for ricotta gnocchi with a sage and brown butter sauce, which is no doubt delicious. I've made a yogurt based sauce inspired by a yogurt broth I had once at an Armenian-Lebanese restaurant, but with pistachios, sundried tomatoes, and roasted red pepper in the mix. If you prefer a thinner sauce, just add more broth. - clintonhillbilly - clintonhillbilly
Food52 Review: These malfatti are incredibly easy to make. Blend the flour, eggs and cheeses together, then drop spoonfuls into boiling water. Three minutes later you have delicious cheesy dumplings. The sauce is also very easy to throw together. The combination of sundried tomato and roasted pepper with the yogurt, mint, lemon, garlic and onion is scrumptious and the dash of allspice adds a bit of sweet warmth. - GirlPlusFire - GirlPlusFire
Serves 3
Ricotta Malfatti
1

cup flour

1/2

cup grated parmesan

10

ounces fresh ricotta

2

eggs, beaten

salt and pepper
Pistachio and Roasted Pepper Sauce
1

red bell pepper, roasted, skin removed

1

small onion

1

clove garlic

1/3

cup sundried tomatoes packed in olive oil

1

cup yogurt

1

cup vegetable or chicken broth

1/3

cup pistachio meats

1

cup mint leaves, loosely packed

1

teaspoon allspice

black pepper and salt

1/2

lemon
In a large bowl, mix malfatti ingredients until the dough stays together. Add flour if needed.
Bring a pot of salted water to a boil and drop in rounded tablespoonfuls of dough one, being careful not to crowd the pan. When the malfatti are done, they rise to the top. Remove them to plates with a slotted spoon.
In a pan, cook garlic and onion in butter until soft. Add garlic, onion, half of the mint, the juice of the lemon, and the rest of the ingredients to a food processor and purée. Season to taste.
Finely chop remaining mint. Smother malfatti in sauce and garnish with fresh mint to serve.
Tags: dumplings, fusion, Italian, Middle Eastern, pistachios, rich, ricotta, sun dried tomatoes, yogurt