Slow Roasted Lemon Chicken
71
Save
If you like it, save it!
Save and organize all of the stuff you love in one place.
Got it!
If you like something…
Click the heart, it's called favoriting. Favorite the stuff you like.
Got it!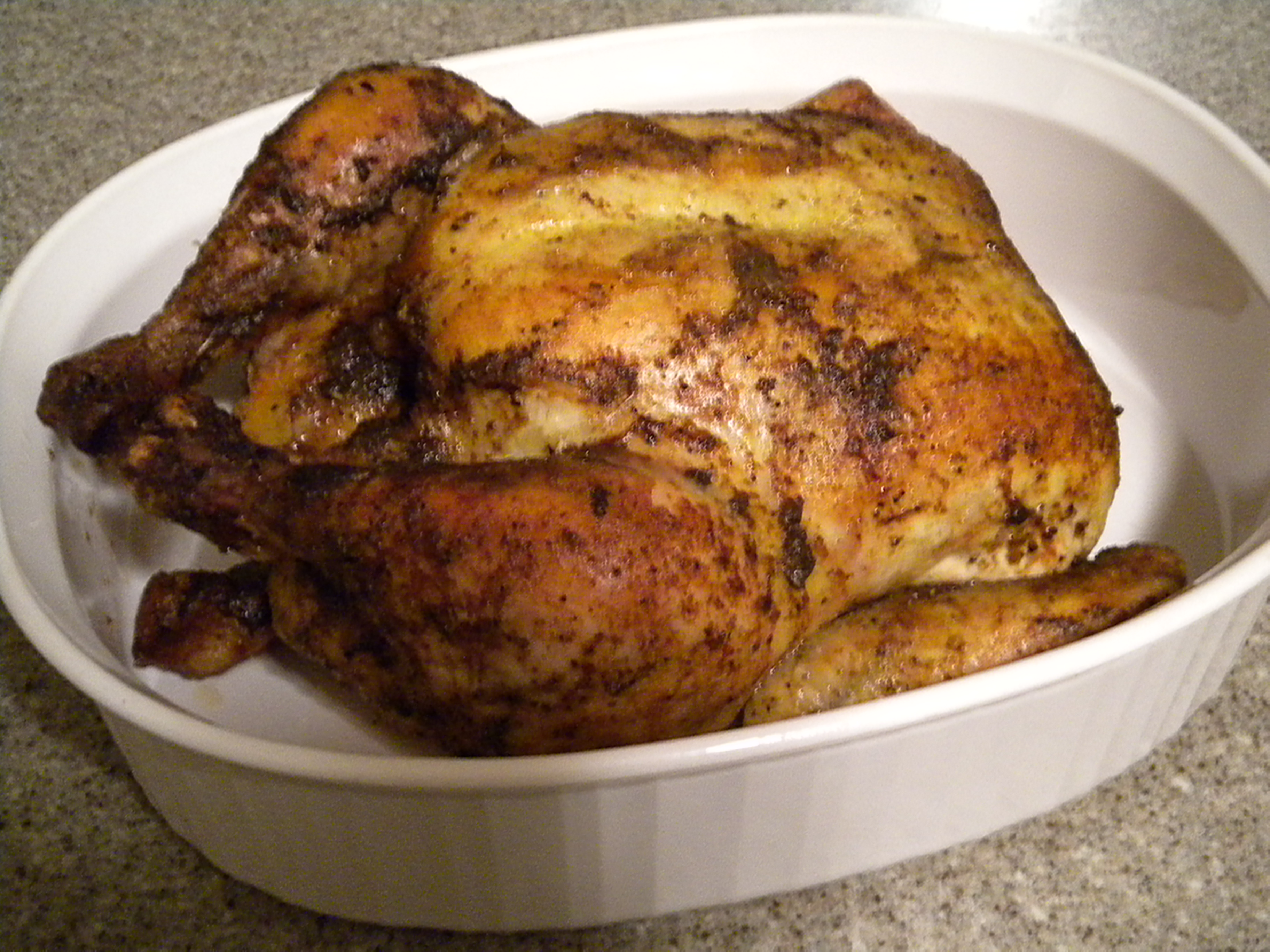 Author Notes: A while back I was asked to post my slow roasted chicken recipe the next time I made it...We had it for Sunday dinner. This is based on "sticky chicken" recipes you see on the internet, but I season it differently and make a lemon pan sauce for it while the chicken is resting. This is fall off the bone roast chicken and even with the long roasting time, stays amazingly moist. It's remarkably good at room temperature and makes for great sandwiches! - inpatskitchen - inpatskitchen
Food52 Review: This chicken is seriously slow roasted. It takes about eight hours from start to finish, but requires very little active time and no part is particularly difficult. The spice rub is fabulous, though I did find that I didn't need the full 3 tablespoons on a four-pound chicken. The chicken is tender and surprisingly moist, and makes for wonderful picking at a picnic. It had all vanished before I got the chance to try making it into sandwiches. - biffbourgeois - Stephanie Bourgeois
Serves 4 to 6
Rub:
3

tablespoons Cavender's Greek Seasoning or absent Cavender's, 3 tablespoons of the following mixture which has been blended in a mini processor or spice grinder:

2

tablespoons salt

1

tablespoon black pepper

2

tablespoons granulated garlic

2

teaspoons dried basil

2

teaspoons dried oregano

1/4

teaspoon dried thyme
For the Chicken:
1 x

4 to 5 pound whole chicken

1

lemon, halved

3

tablespoons Cavender's Greek Seasoning or the rub mixture

1

teaspoon sweet paprika

2

tablespoons olive oil

8 to 10

whole garlic cloves
Wash and dry the chicken and rub all over with the juice of both lemon halves, reserving one used half.
Rub the chicken with the olive oil.
Sprinkle the Cavendars or rub and the paprika all over the chicken and pat in a bit.
Place the garlic cloves in the cavity, followed by the reserved used lemon half. Cover and refrigerate for one to three hours.
Roast the chicken for 5 hours( yep that's right) at 250F ( that's right too). After an hour the chicken will start exuding some juice. Tip the chicken to drain juices from the cavity and baste with a brush. Do this every 45 minutes to and hour while the chicken is roasting.
After the 5 hours, remove the chicken and let it rest while you make the pan sauce in the roasting pan by adding 2 cups chicken broth and a little flour to thicken, scraping up the fond in the bottom of the pan. Sometimes I remove the garlic cloves and mash them into the sauce. The sauce is purely optional, but is wonderful on the chicken.
Jump to

Comments

(

16

)
Tags: Slow Cooking, travels well