Lemon Orzo Pasta with Brussels Sprouts and Shrimp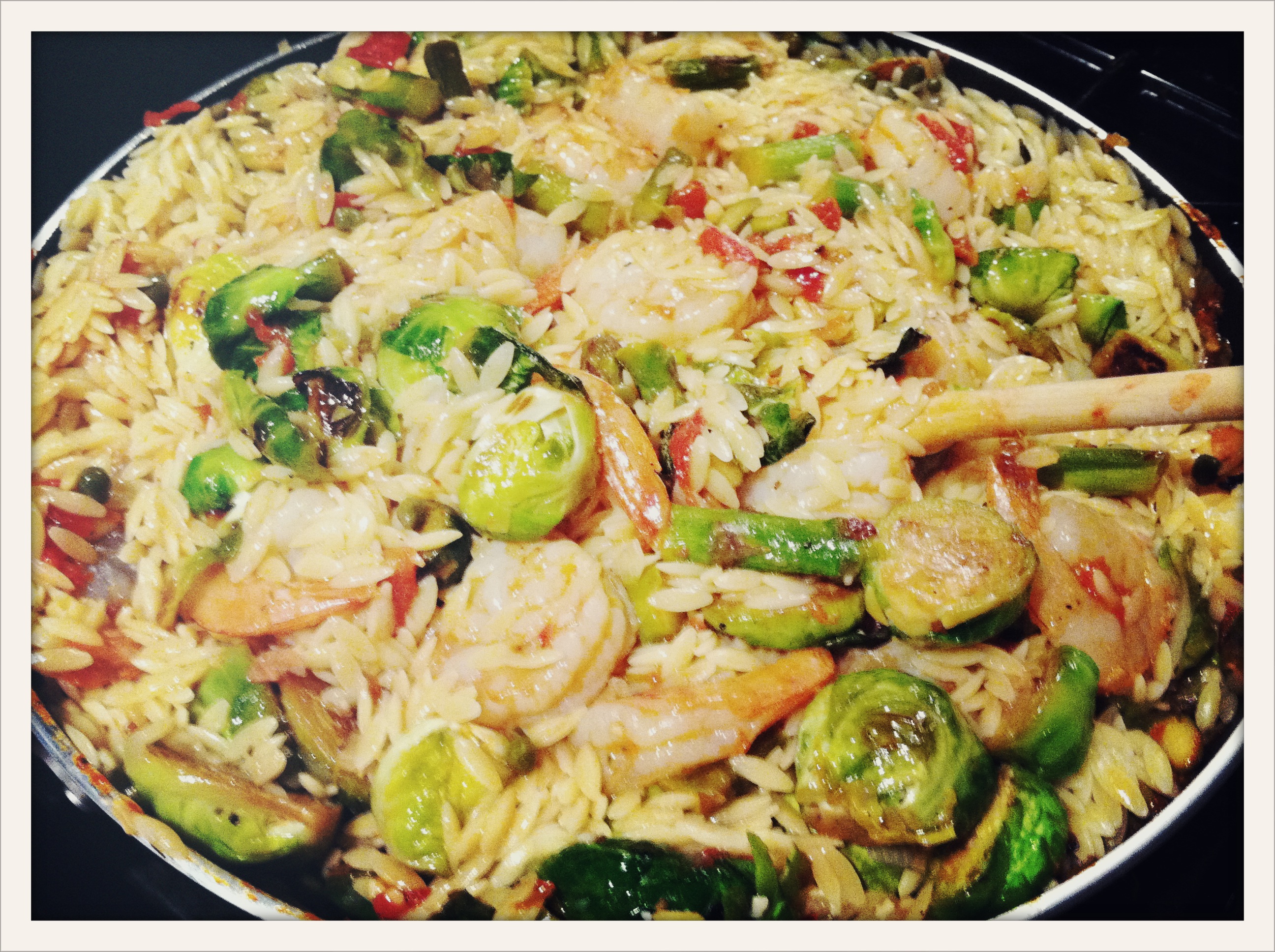 Author Notes: This is one of my absolute, all time favorites. I've made it many times, and so have my friends and family. I started by making this pasta dish and serving it warm, but it always makes tons of left overs. Therefore, there's always a heap of it left in the fridge. The next morning I always find myself digging in for breakfast, when the salad is cold. I don't know what it is about this pasta salad, but it's like popcorn at the movie theater. You don't want anyone to watch you eat it so you can just shove it in. - Brussels Sprouts for Breakfast
Serves 6
1

pound brussels sprouts (trimmed and halved)

3

vine ripened tomatoes (cubed)

3

shallots (finely chopped)

5

cloves garlic (minced)

1.5

cups Orzo Pasta

2

tablespoons capers with juice

1/2

lemon (juice plus zest)

1 1/2

cup dry white wine

Crushed red pepper

Sea salt and black pepper

Olive Oil

2 tbsp unsalted butter

1/2

pound shrimp (raw, peeed and deveined)
Start by cutting up the brussels sprouts, shallots and garlic. Heat some olive oil over medium heat in a large saute pan for the brussels sprouts. Add one shallot and some salt and pepper. Cook for 3 minutes. Add garlic and let cook for a couple minutes. Add brussels sprouts and salt and pepper. Make sure all are face down to start (this will give them a good caramelizing). Don't let them burn, but they should get a nice dark brown crust, and the shallots will start to caramelize. It will take about 15 minutes to finish. Give the pan a shake occasionally to turn sprouts. Add the tomatoes and let cook for 5 minutes.
Start the sauce once the sprouts and asparagus are cooking. In a small sauce pan, heat some oil and the butter over medium heat. Add remaining shallots and some salt and cook for 3 minutes. Add garlic, crushed red pepper and black pepper, and cook for 2 minutes. Add wine, lemon juice and zest, and capers and bring to a simmer. Let simmer for about 10-15 minutes.
Once all ingredients are cooking, start the pasta. Cook Orzo to al dente (according to the box).
When orzo is about 4 minutes from complete, add the shrimp to the brussels sprout and tomato pan. Nestle in the juice of the tomatoes. Only cook the shrimp for about 4 minutes, as they will continue to cook when added to the orzo.
Before draining the pasta, add about a 1/2 cup of pasta water to the sauce. This will help the sauce thicken up a bit. Drain pasta and return to pan. Add the sauce, , shrimp, tomatoes and brussels sprouts to the orzo and mix to combine.
The orzo should be nice and smooth and fragrant. Serve immediately with a little Parmesan or Romano cheese grated on top. Also, make sure you save the leftovers for the next day. It is a great summer salad served cold.
Tags: delicious, serves a crowd, travels well