Sweet Potato, Chard, and Mushroom Enchiladas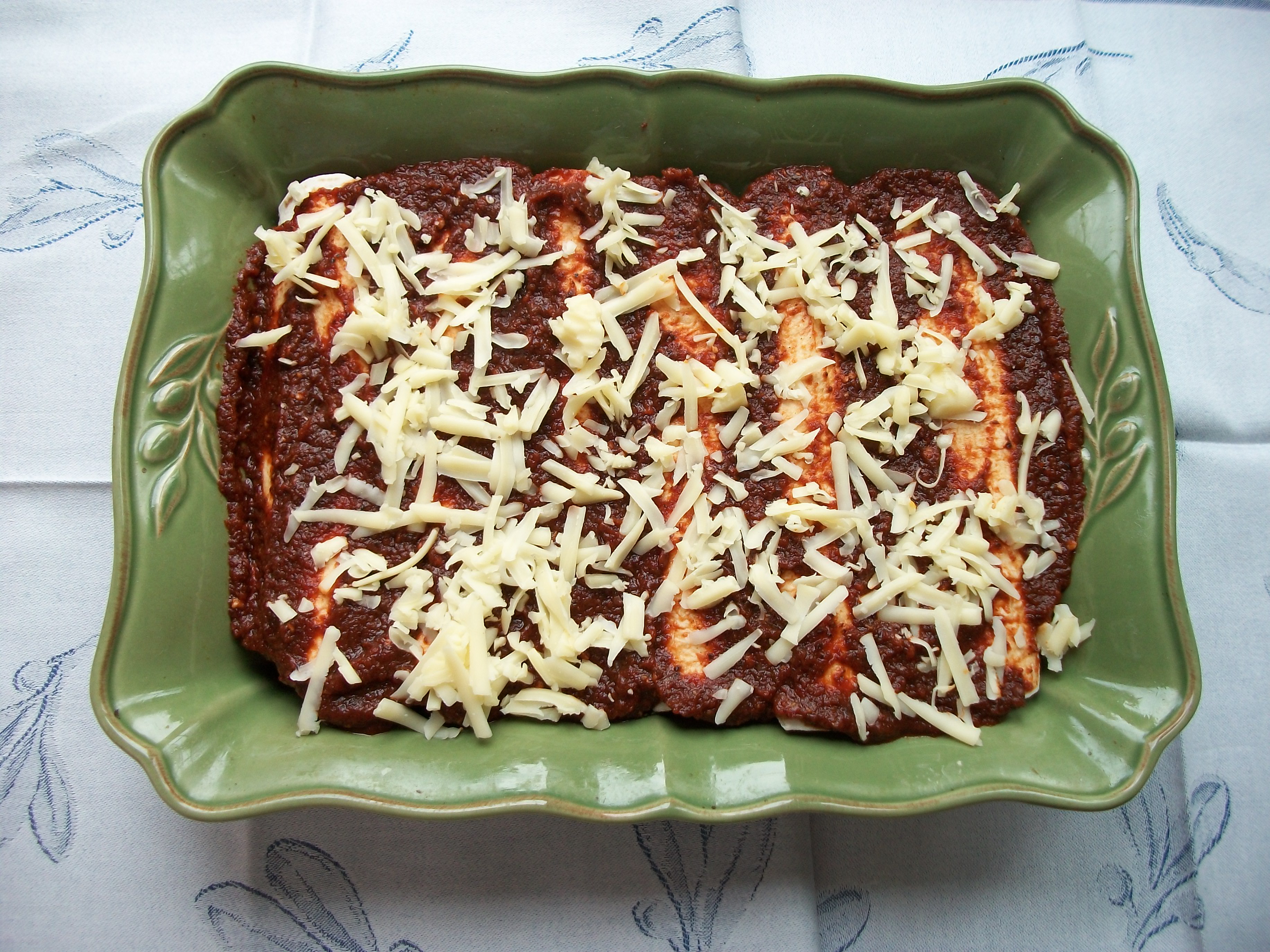 Author Notes: I started cooking at a young age when my family's nanny left. Helping with dinner became my chore, but I really took to it and made dinner almost every night, even though my parents would have happily gotten us takeout instead. It has always been important to me to make time to have a nice dinner cooked at home, and the food I like to make best is really just simple, healthy week night meals.

I've been making a version of these enchiladas since I first started cooking, at first following a super basic recipe verbatim and as time has gone on, improvising with the ingredients I'm into at the moment. They are my go to weeknight recipe. These can be made a few days ahead of time and the leftovers hold up well in the fridge, so they're nice to have around when you don't get home from work until late. I've also found that enchiladas are a good medium for getting picky eaters to try new things (you can hide stuff inside them), which is something I'd also like to be remembered for! - VanessaS
Serves 6
Sauce
1

small onion, cut into 1/4 inch thick slices

3

garlic cloves, peeled

2

dried pasilla chiles

1

14.5 ounce can diced tomatoes

1

tablespoon ancho chile powder

1

teaspoon salt
Place onion and garlic on a baking sheet and broil for about 7 minutes, until edges start to char a bit and garlic softens. If some pieces are charring too much, flip them over to expose the other side.
While onion and garlic is broiling, toast pasilla chiles in a dry skillet over high heat until fragrant, about 2 minutes.
Crumble chiles into a blender jar. Add onions, garlic, and tomatoes. Blend until smooth.
Pour tomato mixture into a large skillet. Add ancho and salt and simmer until thickened and darkened, about 15 minutes.
Enchiladas
1 1/2

pound sweet potatoes (about 3 medium)

2

teaspoons olive oil

1

pound crimini mushrooms, sliced 1/3 inch thick

1/2

of a small onion, halved and cut into 1/4 inch thick slices

2

garlic cloves, minced

2

teaspoons ground cumin

1

pound swiss chard, stems removed and cut into 1/2 inch thick strips

1

15 ounce can of black beans, drained and rinsed

6

8 inch tortillas (I use flour - if using corn, warm before assembly to make them pliable)

4

ounces sharp cheddar, grated
Roast sweet potatoes in a 400 degree oven for about 45 minutes, until very soft. Coarsely mash and set aside. Reduce oven to 350.
Heat 1 teaspoon of olive oil in a large skillet over high heat. Add the mushrooms and cook until edges brown, about 7 minutes. Only stir the mushrooms once or twice while cooking to let them get a nice sear. Remove the mushrooms and place in a large bowl.
In the same skillet, heat another teaspoon of olive oil over medium high heat. Add the onion and garlic and cook until softened, about 3 to 4 minutes. Add the cumin and cook for another 30 seconds. Add onion mixture to bowl with mushrooms.
Place 1/3 of sauce in the bottom of a baking dish in the ballpark of 9 x 13.
Add sweet potato and black beans to mushroom mixture and stir to combine. Divide mixture between the 6 tortillas, rolling each tortilla around the filling and placing seam side down in the baking dish. Cover with the remaining sauce and grated cheese. At this point, you can cover and refrigerate for a day or so. Remove tin foil before baking.
Bake enchiladas for 30 minutes, until cheese is melted and enchiladas are heated through.
Jump to

Comments

(

2

)
Tags: can be made ahead, enchiladas, mexican, Vegetarian