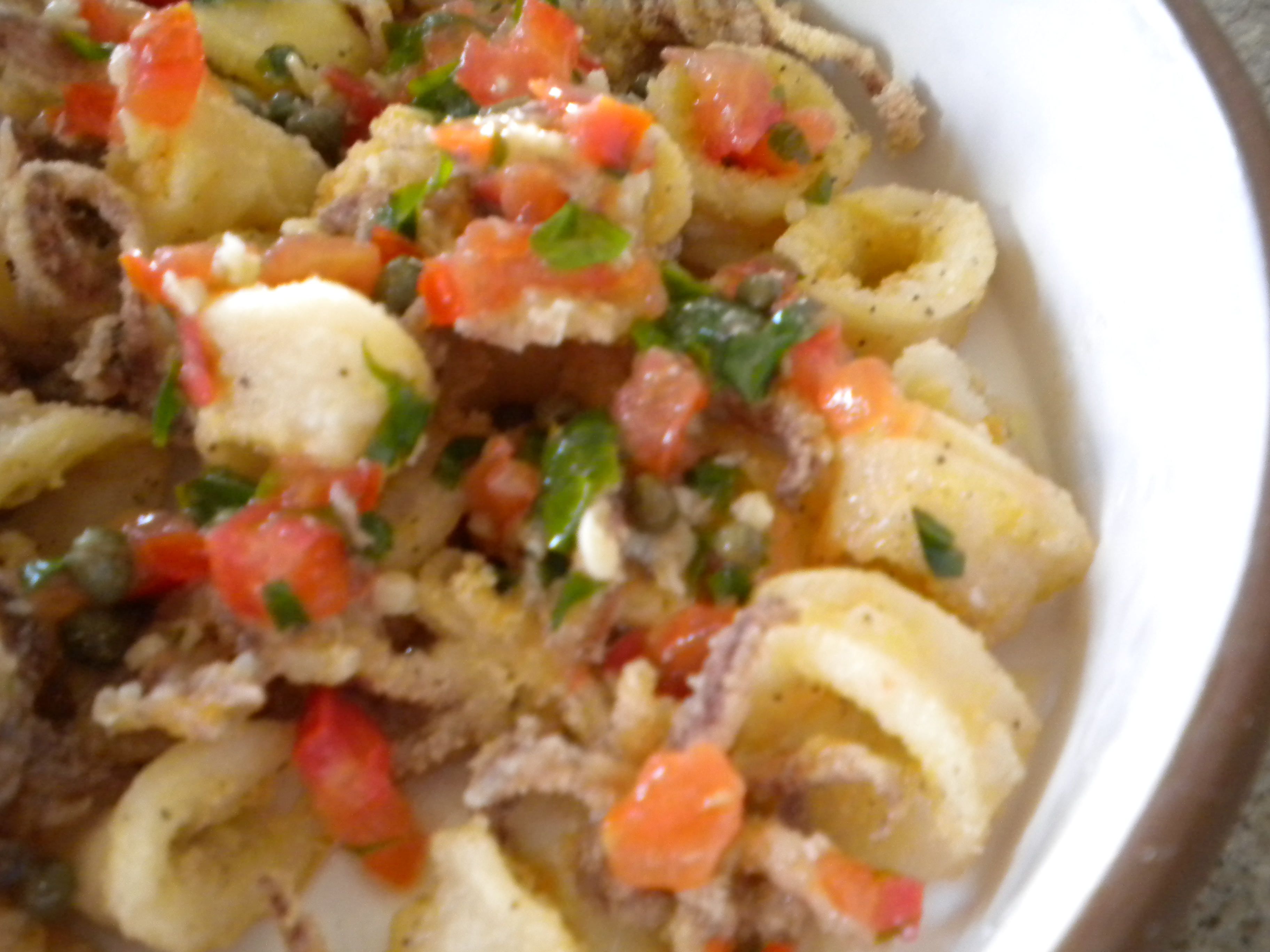 Author Notes: Whenever I hear the phrase "roadhouse style", I immediately think of frogs legs, breaded, flash fried and then tossed in lemon garlic parsley butter. It may be a Michigan thing because so many restaurants have it on the menu. I love simply fried calamari served with almost any kind of dipping sauce, but thought a ramped up roadhouse version might taste great.. - inpatskitchen
Serves 4 to 6 as an appetizer
Garlic lemon sauce
1

tablespoon olive oil

3

cloves crushed garlic

4

tablespoons butter

juice of 1/2 lemon

1/4

cup minced parsley

1

medium tomato, seeded, cored and finely diced

1

tablespoon capers, drained
Gently saute the garlic in the olive oil until just fragrant. Don't let it brown.
Add the butter and let it melt slowly over low heat.
Add the tomato ,capers, parsley and lemon juice. Keep warm while preparing the squid.
For the squid
1

pound squid, tubes sliced in 1/2 inch rings, tentacles left whole ( or just use tubes if you like) Pat the squid dry with paper towels.

2/3

cups AP flour

1/3

cup rice flour

1/2

teaspoon salt

1/2

teaspoon black pepper

peanut or vegetable oil to fill a large frying pan with about an inch of oil

salt and pepper to taste for serving

juice of 1/2 a lemon for serving
In a plastic or small paper bag, combine the flours and salt and pepper.
Add the squid and shake in the flour until well coated.
Empty the bag of squid into a dry colander set in the sink and shake off excess flour.
Fry the squid in hot oil, in batches if necessary, for about 3 minutes , turning them with a spider or slotted spoon about halfway through.
Remove the fried squid to paper toweling to drain briefly. ( If doing this in batches, keep the first batch warm in a 300F oven)
Place the squid in a serving dish, drizzle with the warm lemon garlic butter, salt and pepper to taste. Squeeze the juice of the 1/2 lemon over all. Serve immediately!
Jump to

Comments

(

4

)
Tags: fried, Lemony, serves a crowd