Potato Salad (Salad e Oliveh)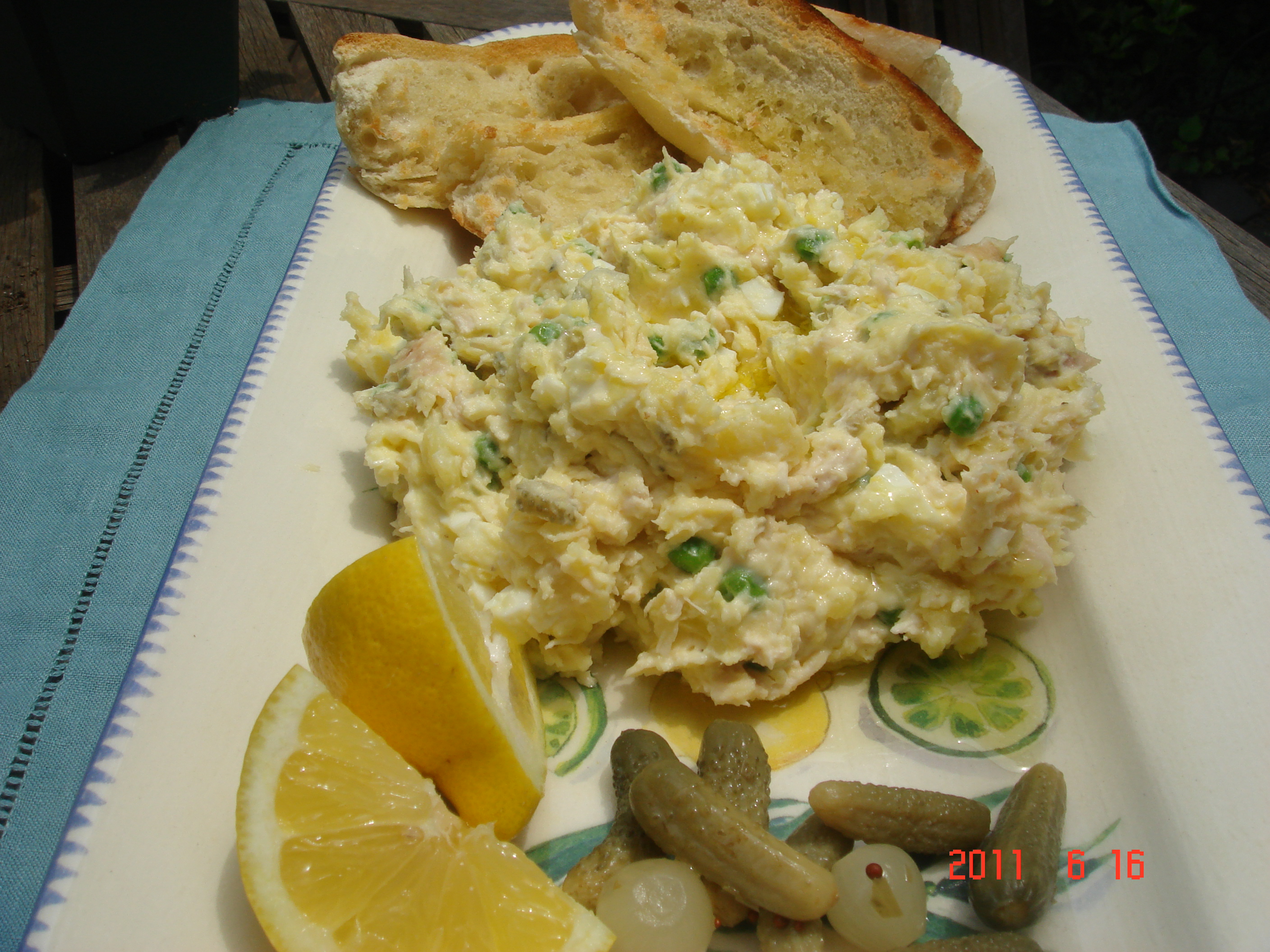 Author Notes: Salad e Oliveh is an Iranian version of Potato Salad haven't made this in a while, I was inspired to dredge up this recipe in my quest for cold meals, its relatively simple to prepare there are several componants but its well worth it this is more than a side dish its an entire meal. I like to serve with warm flatbread or toasted baguette and a bitter greens salad like dandelion or arugula with a lemon vinegarette. Because this has mayonaise pack in the cooler if you are eating outdoors. - sdebrango
Serves 6-8
1

Small chicken (baked or boiled and shredded)

6-8

Potato's (I like Yukon Gold) If the potato is large use 6, medium-small use 8

4

Hard boiled eggs chopped

1

cup Cornichon pickles chopped

1

cup Baby Peas, canned, fresh or frozen your choice.

1-2

cup Mayonaise (homemade or bought) You can add how much you like

1/4

cup Olive Oil

1/4

cup Freshly squeezed lemon juice (1 whole lemon depending on size)

Salt and Pepper to taste

Bread of your choice, I like with either warmed flat bread or baguette drizzled with olive oil and toasted

Lemon wedges

Olive Oil to drizzle

Garnish with snips of chives
Prepare the chicken you can bake or boil. (I like to bake seasoned with some salt and pepper and thyme with a half lemon and shalot in the cavity. If you bake the chicken cover baking pan with aluminum foil, For a small chicken it takes less than an hour to bake. Boiling is approximately the same cooking time.
While chicken is baking peel potato's and boil them whole until they are fork tender but not falling apart.When they are done drain and rinse with cold water to stop the cooking process. Mash with one of those hand held mashers it's a rough mash leaving lots of pieces of potato. Boil your eggs.
Chop your pickles, chop the hard boiled egg, shred the chicken add it all to the large mixing bowl along with the potato's. Add the lemon juice, olive oil, mayonnaise starting with 1 cup add more as needed and according to your taste. Salt and pepper to taste and lastly add the peas gently incorporate so as not to mash them
Refrigerate overnight. When you serve, heat your bread, cut lemon wedges make a salad. I like this with a squeeze of lemon, drizzled with olive oil you can scoop it up with the warm bread.
Jump to

Comments

(

17

)
Tags: chicken, potato salad, potatoes