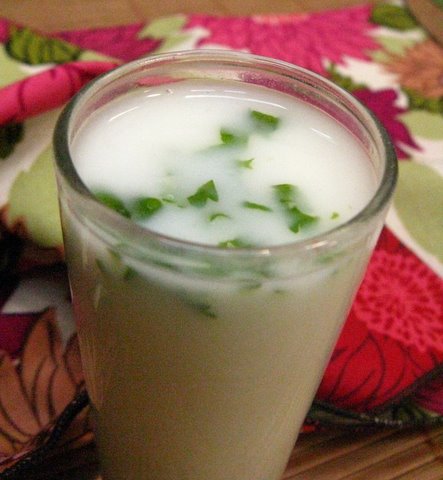 Author Notes: The concept of a savory summer drink probably goes against conventional wisdom, but this drink is a favorite in the hot and humid regions of South India (If you don't believe me, ask Pauljoseph!). also known as 'Chaas' in the northern regions of India, its made of diluted buttermilk with a touch of ginger, lime and an itsy bitsy hint of heat from green chili. Temples would make these in large clay pots for itinerant travelers to quench their thirst. and to this day, it is customary in small villages to offer a stranger a rejuvenating glass of 'Neer More'.
At home, I prefer it with chilled ice water while the other half likes his with lime flavored seltzer. They both taste great! - Panfusine
Makes 2 , 8 oz servings
4

ounces non fat or low fat buttermilk or kefir

1

inch piece fresh ginger, minced

4-5

curry leaves

1/2

teaspoon lime zest

juice of 1/2 -1 lime

Sea salt to taste

1/4-1/2

a small green chilli

1

stalk cilantro (optional)

12

ounces plain/lime flavored seltzer or plain chilled water

a Pinch of toasted cumin powder (optional)
In a mortar, muddle the ginger, curry leaves, green chili (the optional cilantro) and salt till the ginger & curry leaves are almost a coarse paste.
Add to the buttermilk / kefir and whisk well till the flavors combine.
Add the chilled seltzer, whisking to blend the buttermilk thoroughly.
Strain into glasses. Garnish with cilantro & toasted cumin powder. Serve cold.