72
Save
If you like it, save it!
Save and organize all of the stuff you love in one place.
Got it!
If you like something…
Click the heart, it's called favoriting. Favorite the stuff you like.
Got it!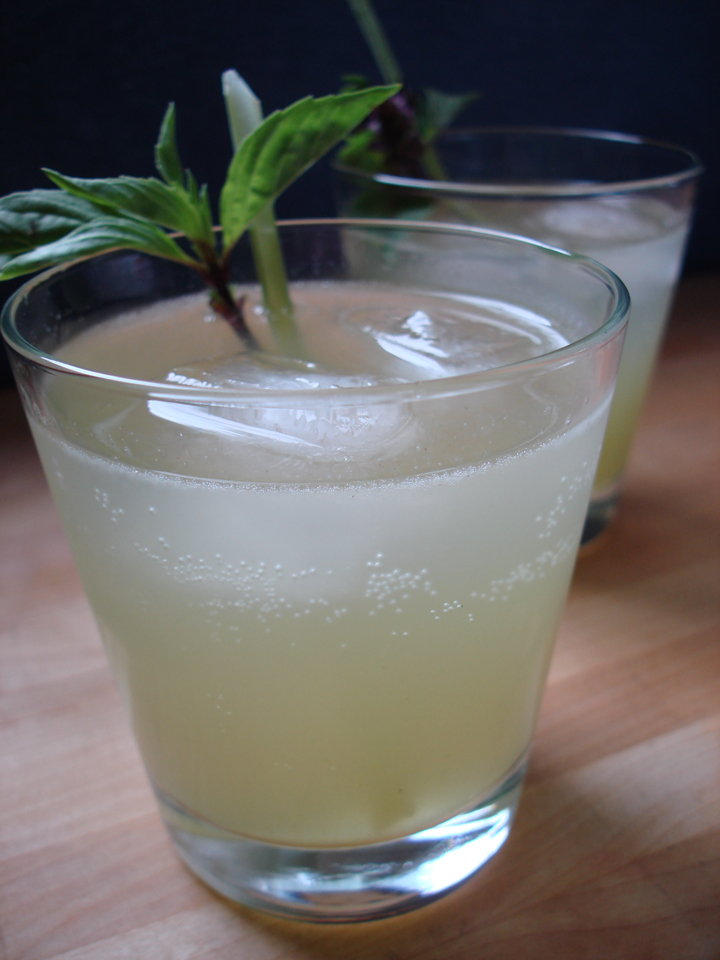 Author Notes: Each year my friends throw a big crawfish boil party in the late spring. I make the desserts and a signature cocktail. This is what I went with for this year's boil. It was inspired by mrslarkin's tarragon & grapefruit aioli. I used a lemongrass-infused vodka (3 large stalks lemongrass, thinly sliced and steeped with 750 ml vodka for 1 to 2 weeks), but a citron vodka would work well too. This drink has a lovely balance of sweet, tart, and bitter making it especially refreshing on a hot day. (Thanks to mrslarkin also for the name suggestion - she's a funny lady!) - hardlikearmour - hardlikearmour
Food52 Review: Perfectly balanced between sweet and tart, with a little spice from ginger, Hardlikearmour's Thai One On is made for a hot summer day. The bubbly seltzer and citrus makes it very crisp and refreshing and the Thai basil puts it over the top. I used citron vodka, but look forward to making some lemongrass-infused vodka for my next round! - VanessaS - VanessaS
Serves 2
3

thai basil leaves

1/2

teaspoon sugar

2

ounces lemongrass infused vodka or citron vodka

1

ounce Domaine de Canton (ginger liqueur)

2

ounces grapefruit juice

1

teaspoon lemon juice

ice cubes

seltzer
Muddle basil leaves and sugar together until basil leaves are well-mashed. Stir in vodka, liqueur, grapefruit juice, and lemon juice.
Strain into 2 glasses (6 to 8 oz size.) Add 2 to 3 ice cubes to each glass, then top with seltzer. Serve with a blade of lemongrass and/or a sprig of thai basil. Enjoy!
Jump to

Comments

(

22

)
Tags: bright, refreshing, very quaffable