38
Save
If you like it, save it!
Save and organize all of the stuff you love in one place.
Got it!
If you like something…
Click the heart, it's called favoriting. Favorite the stuff you like.
Got it!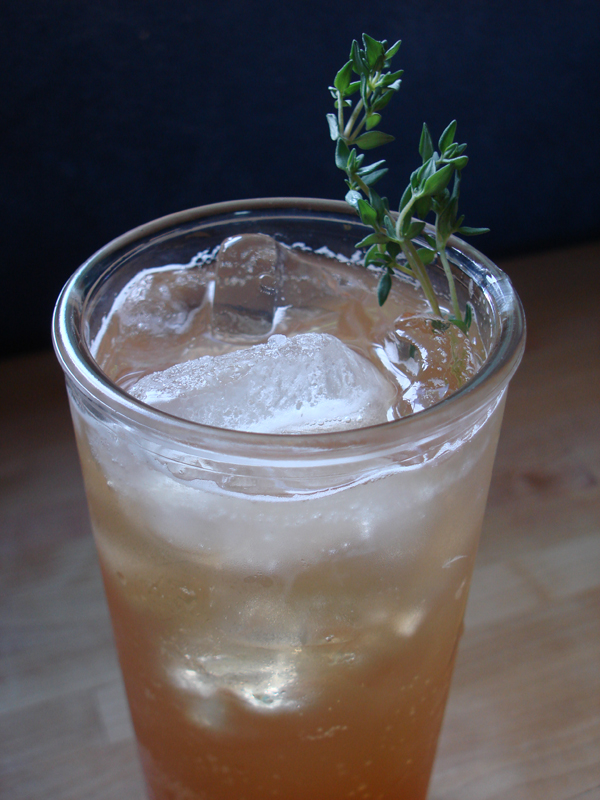 Author Notes: There's a delightful iced tea that gets served in Portland at Queen of Sheba Ethiopian Restaurant and Stumptown Coffee in the summer. At it's essence it is black tea with thyme, and it's surprisingly delicious and refreshing. With the added bourbon it becomes an easy to drink cocktail. (Maybe too easy... Don't say I didn't warn you!) - hardlikearmour
Makes about 1 & 1/4 cups syrup, enough for about 10 12-oz sodas
For the Tea Thyme Soda
ice

2

tablespoons Tea Thyme Syrup

1

tablespoon lemon juice

seltzer, cold

sprig of fresh thyme or wheel of lemon for garnish

1 & 1/2

ounces bourbon (optional)
Half fill a 12-oz glass with ice. Add the syrup, lemon juice, and optional bourbon. Fill glass with seltzer and stir gently to combine. Garnish with sprig of thyme or lemon wheel. Enjoy!
Note: Feel free to play with the proportions of lemon & syrup. I find it to be a refreshing balance of tart and sweet the way it is written.
For the Tea Thyme Syrup
8

ounces water (1 cup)

8

ounces sugar (1 cup plus 2 T)

6

bags black tea (I used Darjeeling)

1 to 2

teaspoons dried thyme or a handful of fresh thyme sprigs (about 1/4 oz)

1/2

3-inch stick cinnamon, broken (optional)
Combine water and sugar in a small saucepan. Bring to a boil over high heat, swirling or stirring occasionally to dissolve sugar. Boil for 30 to 60 seconds.
Remove from heat & add tea, thyme, (and optional cinnamon), then cover. Allow to come to room temperature. Strain through a fine mesh strainer into a glass jar, squeezing tea bags to collect as much syrup as possible. Store covered in the refrigerator.