Cajun Nuggets with a Spicy Tarter Sauce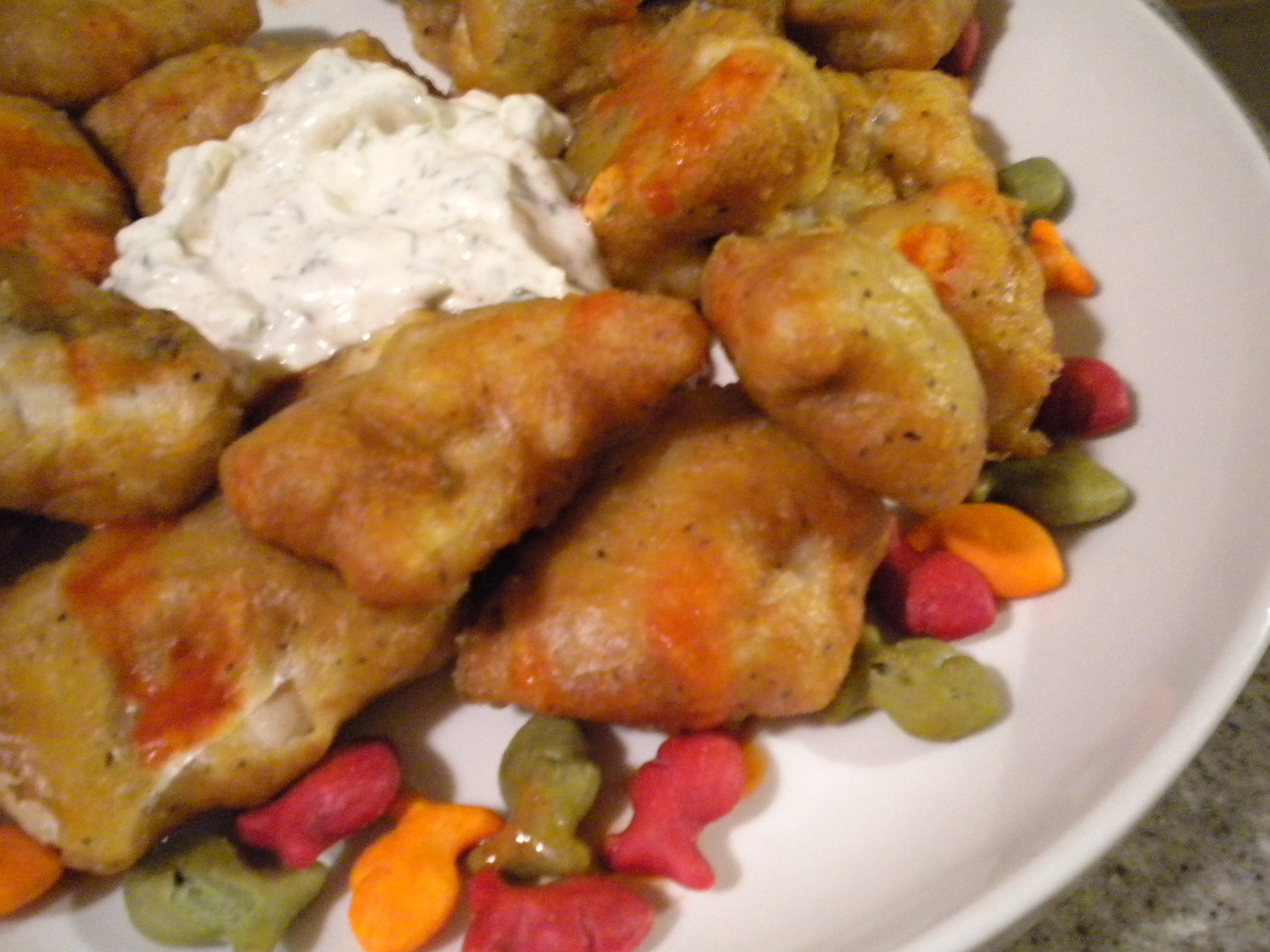 Author Notes: Catfish nuggets are extremely popular around these parts.When we had our small fish and seafood retail business, we would sell hundreds of pounds of these morsels to our customers weekly who would take them home and fry them up. They're a staple at church fish frys, family reunions and festivals. But you don't need to limit yourself to catfish for these...any fish you like to fry will work...I used Canadian Whitefish for mine and if you can get hold of alligator meat, you'll have a real Cajun treat! - inpatskitchen
Serves many as an appetizer
Spicy tarter sauce
3/4

cups good quality mayo

2

tablespoons dried onions which have been re-hydrated with 3 tablespoons hot water

1

teaspoon dried dill weed

3

tablespoons finely chopped kosher dill pickle

2

teaspoons chopped capers

1

tablespoon caper brine

1/4 to 1 teaspoon cayenne pepper ( we do about 3/4)
Combine all ingredients and refrigerate for a few hours before serving.
For the nuggets
1 1/2

pound catfish nuggets or you favorite frying fish cut into 2 x 2 inch pieces ( or alligator meat which has been marinated in something like Italian dressing overnight)

1

cup AP flour

1

teaspoon baking soda

1

teaspoon salt

1

teaspoon black pepper

2

teaspoons cayenne pepper

1

egg, beaten

3/4 to 1 cup water

Juice of a lemon

Enough vegetable or peanut oil for pan frying

Your favorite hot sauce for serving ( we like Cholula)
Whisk together the flour ,baking soda, salt, black pepper and cayenne pepper in a medium size mixing bowl.
Whisk 3/4 cup water and the lemon juice with the beaten egg and then slowly whisk the wet ingredients into the dry. If the batter seems too thick, whisk in the extra 1/4 cup water ( or even more if needed)
Dip the nuggets into the batter and then fry in batches in the hot oil. This should only take a few minutes per side. Drain on paper toweling.
Serve the nuggets with the tarter sauce. Drizzle with the hot sauce if you like.
Jump to

Comments

(

13

)
Tags: fun, kid-friendly, spicy