Grilled Steak Sandwich with Blue Cheese Cole Slaw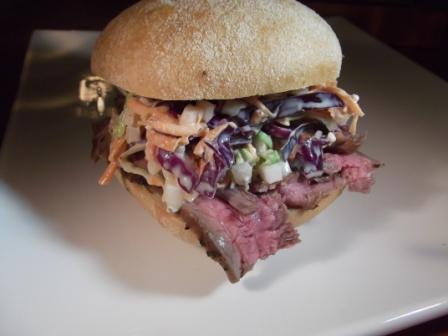 Author Notes: This recipe takes a spin on the classic beef and blue cheese combo and the pulled pork cole slaw sandwich. The crunch of the slaw, soft but toasty bread, and savory steak satisfy all my picnic needs. The blue cheese provides that much needed sharpness to go along with a slightly sweet slaw. The beef and cole slaw can be made ahead and the sandwich assembled on-site, otherwise the cole slaw will make the bread soggy. - meganvt01
Serves 6
Steak Sandwich
1

grass fed flank steak

salt and pepper

6

ciabatta rolls
Blue Cheese Slaw
5

cups mixed shredded cabbage (green, red, napa)

4

large carrots, shredded

1/2

cup sweet onion, minced

1

tablespoon dijon mustard

1

tablespoon apple cider vinegar

2

teaspoons sugar

1/2

cup mayo

1/4

cup buttermilk

1/2

cup crumbled blue cheese

1/2

teaspoon celery seeds

1/2

teaspoon celery salt

salt and pepper
Generously season the flank steak with salt and freshly ground black pepper. Let it rest for 30 minutes.
Over a preheated medium high grill, grill the flank steak for 5-6 minutes on each site for medium rare. Let the steak rest for 15 minutes. Slice the steak into 1/4 inch slices against the grain. Pack the steak for the picnic and keep chilled.
Cut the ciabatta rolls in half. Grill lightly until toasted. Let cool and pack for the picnic.
Mix together the dijon, vinegar, sugar, mayo, buttermilk, blue cheese, celery salt, and celery seeds in a bowl.
Mix together the cabbage, onions, and carrots in a large bowl. Pour the blue cheese dressing over top. Season with salt and pepper. Pack the slaw for the picnic and keep chilled.
Layer on slices of steak onto each roll and top with 1/2 cup of cole slaw. Top with other half of roll.
Jump to

Comments

(

2

)
Tags: barbecue, can be made ahead, coleslaw, flank steak, picnic, Sandwiches