Raspberry-Orange Pudding Cake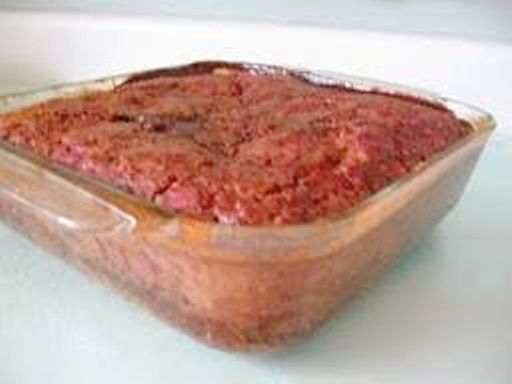 Author Notes: This is the best recipe for a Pudding Cake of a few which I tested by deferent chefs.
I got it from the American Test Kitchen while watching episode: the Chemistry of Cakes.
The addition of Raspberries is my idea. In the original recipe only 1/4 cup of flour is used. I used 1/4 cup more because of the raspberries, which might add to much moisture and weight.
This dessert is best served warm or at room temperature the same day it is made. - Kukla
Serves 8
• 1/2 cup all-purpose flour

• 2 teaspoon cornstarch

• 1 1/4 cups sugar

• 5 tablespoons unsalted butter, softened

• 2 large oranges, zested and juiced

• 5 large eggs, separated

• 1 1/4 cups whole milk, room temperature

• 1 pint fresh raspberries
Adjust oven rack to lowest position and heat oven to 325 degrees. Grease 8-inch square baking dish. Whisk flour and cornstarch in bowl.
With electric mixer on medium-high speed, beat 1/2 cup sugar, butter, and orange zest until light and fluffy, about 2 minutes.
Beat in yolks, one at a time, until incorporated. Reduce speed to medium-low. Add flour and cornstarch mixed together, and beat until incorporated. Slowly add milk and orange juice, mixing until just combined. With a robber spatula fold in the raspberries.
Beat egg whites using clean bowl and whisk attachment, beat egg whites on medium-high speed until soft peaks form, about 2 minutes.
With mixer running, slowly add remaining sugar until whites are firm and glossy, about 1 minute. Whisk one-third of whites into batter, and then gently fold in remaining whites, one scoop at a time, until well combined.
Place kitchen towel in bottom of roasting pan and arrange prepared baking dish on towel. Spoon batter into prepared dish. Carefully place pan on oven rack and pour boiling water into pan until water comes halfway up the sides of baking dish.
Bake until surface is golden brown and edges are set, about 1 hour. After baking, carefully remove the baking dish from the water.
Transfer to wire rack and let cool at least 1 hour. Serve. Scoop it out and serve in a bowl.