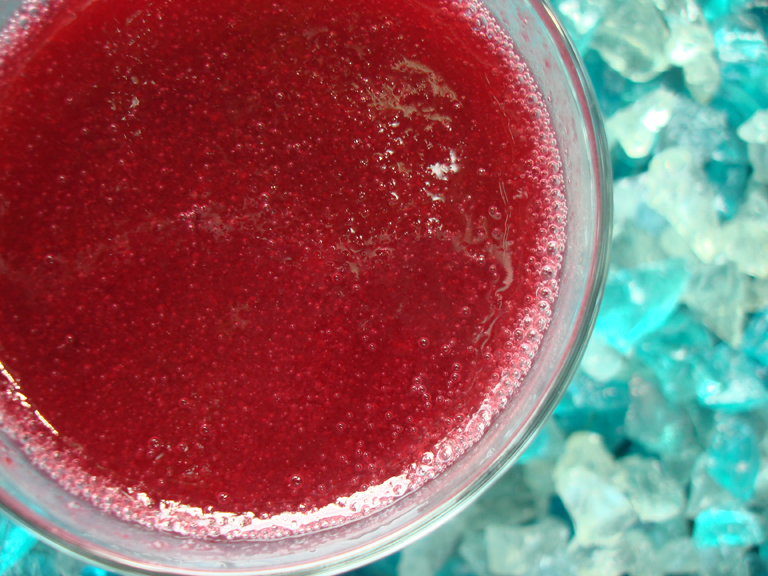 Author Notes: If I had to pick a cocktail to be the only one I could ever drink again my choice would be the Aviation. It is a classic from the early 20th century, and it's formula is 2 oz gin, 1/2 oz maraschino liqueur, 1/2 oz lemon juice, and 1/4 oz crème de violette. Sometimes the violet liqueur is left out, but then the cocktail doesn't have the lovely clear pale purple hue from which it derives its name. I have created an ice cold summery rendition of the drink, substituting frozen cherry juice cubes for the Maraschino liqueur. I hope you enjoy! - hardlikearmour
Serves 2
Cherry Juice Cubes
1/2

pound sweet cherries

2

large lemons

2

tablespoons sugar

water
Pit your cherries and place them into a blender. Juice your lemons, straining out any seeds, into the blender. Add sugar. Blend until cherries have been thoroughly liquified. If your blender has trouble add up to 1/4 cup water.
Stain cherry juice into a glass measure, through a fine mesh strainer to remove most of the solids. Press out as much liquid as possible. Add water to a total volume of 1 & 1/2 cups of cherry juice. Stir.
Pour into an ice cube tray (or more if needed.) Freeze until solid (at least several hours.)
Note: this will make enough cherry juice cubes for 2 batches of the cocktail. Alternately use additional cubes in limeade, to keep your Red Skies icy cold for longer, or eat them like mini-popsicles.
Red Skies
4

ounces (1/2 cup) freezer cold gin (Aviation preferred)

3/4

ounce (1 1/2 T) crème de violette

1/2

batch Cherry Juice Cubes

lemon juice (optional)
Combine gin, crème de violette, and cherry juice cubes in a blender. Blend until smooth. Taste, and stir in lemon juice if desired.
Divide between 2 cocktail glasses. Kick back and enjoy!
Note: If need be you can omit the crème de violette. It adds a nice floral note, but the cocktail is still tasty without it.
Jump to

Comments

(

24

)
Tags: Aviation, easily doubled, ridiculously quaffable, slushy