Flank Steak with Tomatillo Salsa Verde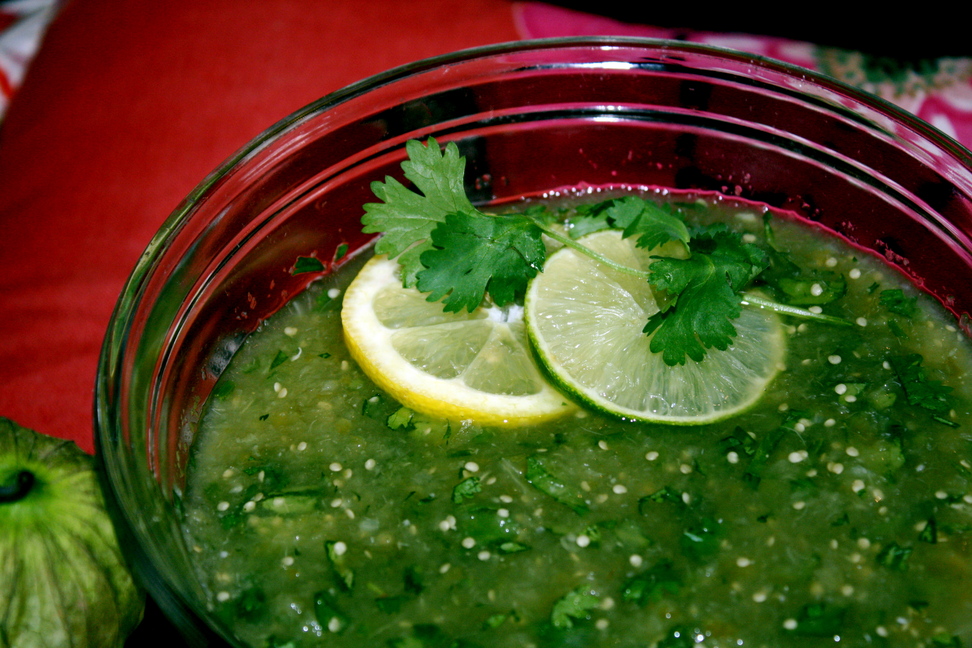 Author Notes: This is a great dish for summertime grilling. The tomatillo salsa complements the steak perfectly. But beware, it has some kick to it, so if you're not a fan of heat, remove the seeds from the jalapeño before adding it in. - MissNortho
Serves 4
Flank Steak
16-24 oz

flank steak

1

yellow onion, quartered

2

cloves garlic

1/2

cup chili sauce

2

chipotle chiles in adobo sauce

1

cup olive oil

1

cup freshly squeezed lime juice

1/2

cup brown sugar

2

tablespoons ground cumin

2

teaspoons corriander seed

1

dash Tabasco (optional)
To prepare the flank steak mix all of the ingredients except the steak together in a large bowl.
Transfer the mixture to a plastic Ziploc bag and add the steak. Marinate in the fridge for at least 2 hours and up to 12 hours. I recommend marinating the meat for the maximum time, if possible, to really let the flavors set in.
Remove steak from the marinade and grill on medium/high heat for 4-6 minutes per side (for medium rare).
Allow the meat to sit for 5-7 minutes after removing from the grill to allow the juices to settle.
Slice against the grain and top with tomatillo salsa to serve.
Tomatillo Salsa Verde
1

pound fresh tomatillos, husked, rinsed and quartered

1

fresh jalapeño, chopped

1/2

large white onion, coarsely chopped

2

cloves garlic, chopped

1/2

cup water

1

teaspoon salt

1/2

cup fresh cilantro, chopped

1

tablespoon fresh lime juice

1

teaspoon ground cumin
Coarsely puree tomatillos, jalapeño, onion, garlic, water, salt and lime juice in a blender until relatively smooth (mixture will still be a little chunky).
Transfer mixture to a small saucepot and simmer, stirring occasionally for about 15 minutes. This allows the moisture released from the tomatillos to cook down.
Transfer mixture to a bowl and cool to room temperature or refrigerate to chill.
Stir in cilantro, cumin and lime juice and salt to taste.
Jump to

Comments

(

0

)
Tags: summer grilling, summer recipe