Flank Steak with Mushrooms and a Gorgonzola Basil Dressing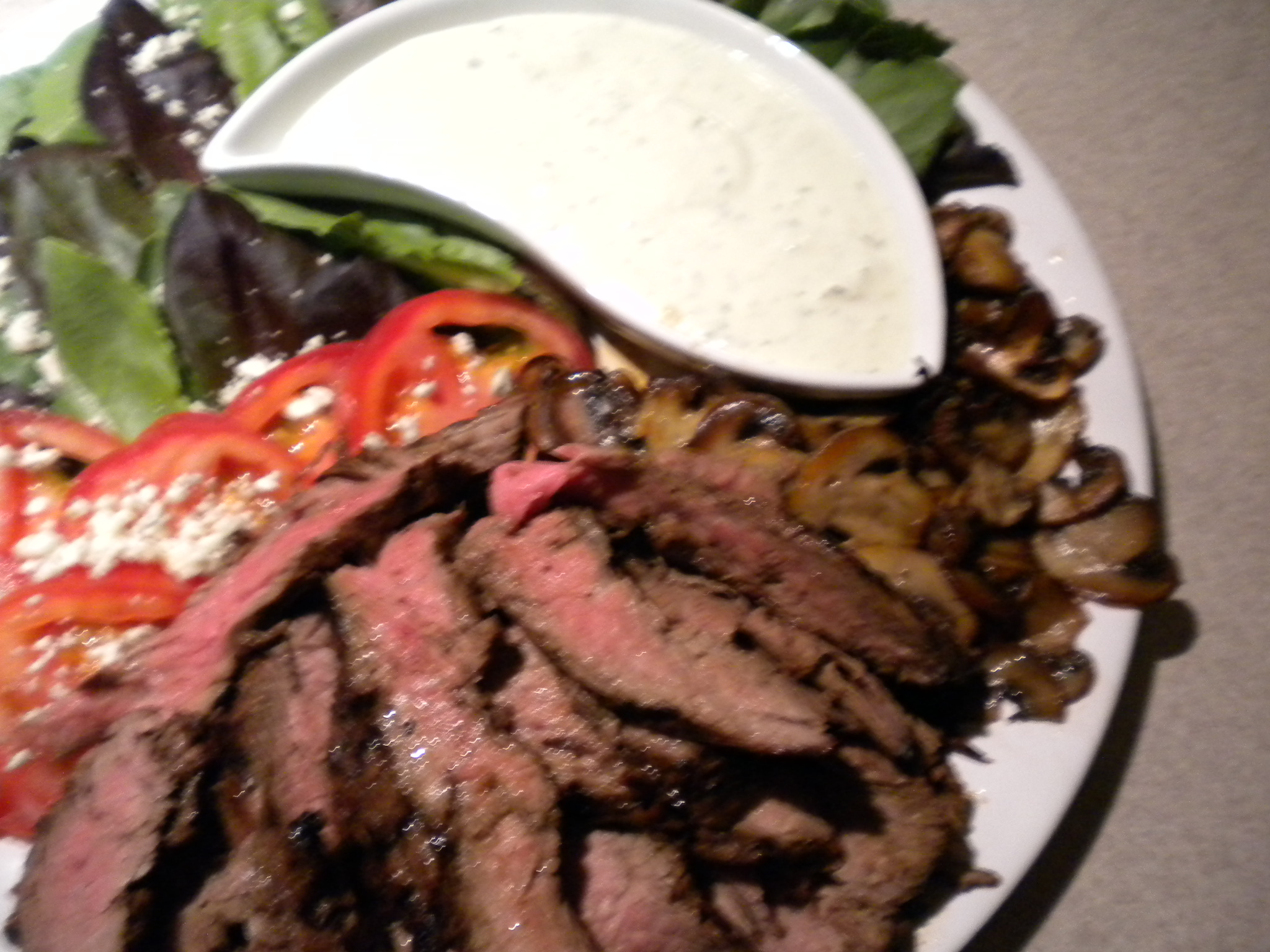 Author Notes: I obsess over Heston Blumenthal's Steak with Blue Cheese Infused Butter and Mushroom Ketchup which he serves with a simple tomato and iceberg lettuce salad. Someday when I have two days, a blow torch and the best two bone prime rib in the world I WILL make it...until then I'll make this. - inpatskitchen
Serves 4
For the dressing
1/2

cup mayo

1/2

cup sour cream

1/2

cup crumbled gorgonzola

20

fresh basil leaves, torn

2

teaspoons wasabi powder mixed with 2 tablespoons water

1

clove garlic
Place all ingredients in a mini processor or blender and blend until smooth. Refrigerate.
Steak and sides
1

two pound flank steak, scored on both sides

1/2

cup Worcestershire sauce

4

cloves minced garlic

1/4

cup olive oil

1

pound sliced button mushrooms

2

tablespoons butter

1

tablespoon olive oil

4

cups baby romaine lettuce leaves

3

medium tomatoes sliced

1/2

cup crumbled gorgonzola

Salt and pepper

extra virgin olive oil for drizzling
Marinate the scored flank steak in the Worcestershire, four minced garlic cloves and 1/4 cup olive oil for 3 to 4 hours.
In the meantime, saute the sliced mushrooms in the 2 tablespoons butter and 1 tablespoon olive oil until they brown up nicely. Set aside.
After marinating, grill the steaks on a super hot grill or grill pan for 4 to 5 minutes per side or until medium rare. Let rest about 10 minutes before slicing against the grain and on the diagonal as thinly as possible.
Arrange the steak mushrooms, lettuce,tomato and dressing on a platter. Sprinkle the gorgonzola over the tomatoes and lettuce, drizzle with a little olive oil and salt and pepper to taste.
Now everyone help yourself and enjoy!
Jump to

Comments

(

8

)
Tags: basil, gorgonzola, grilled, savory, spicy dressing