Chocolate Cayenne Cheesecake Brownies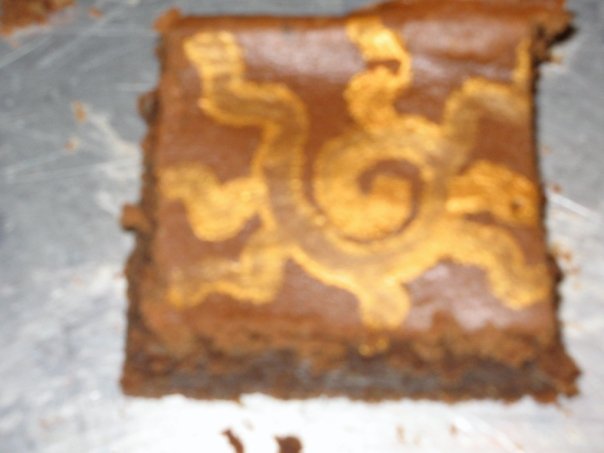 Author Notes: One day after watching the movie Chocolat, I was inspired to come up with a spicy chocolate dessert. I thought this would be warming and soothing all at once, and chocolate just makes it even better. Now this is my traditional Valentine's dessert after chicken mole enchiladas. Chocolate and chile are the epitome of romance and passion. - CheriDawn
Serves 9
Brownies
2

ounces chocolate, bittersweet, melted

1

cup sugar

1/2

cup butter, softened

2

eggs

2

teaspoons vanilla extract

1/2

cup flour, sifted
Cream the butter and sugar.
Add eggs and vanilla.
Add sifted flour.
Blend in chocolate.
Spread in 8"X8"X2" buttered pan.
Preheat oven to 325 degrees.
Chocolate Cayenne Cheesecake
8

ounces cream cheese, softened

1/4

cup sour cream

1/2

cup sugar

1/2

teaspoon almond extract

1/4

teaspoon dried lemon peel

1

tablespoon flour or almond meal

1

egg

splashes milk

1/3

teaspoon cayenne

1/3

teaspoon cinnamon

2

ounces chocolate, semi-sweet, melted
Combine chocolate, cayenne and cinnamon and set aside.
In mixing bowl, beat cream cheese, sour cream, almond extract and lemon peel until fluffy.
In separate bowl, mix sugar, flour and a dash of salt.
Slowly add sugar mixture to cream cheese until mixed well.
Add egg, stirring just until combined.
Stir in milk and then the chocolate mixture.
Spoon cheesecake batter over brownie batter and bake for 30 - 35 minutes...or until center is only very slightly jiggly.
Using a knife, loosen sides. Can be served warm or cooled.
Jump to

Comments

(

4

)