Corn Soup with Corn Husk Stock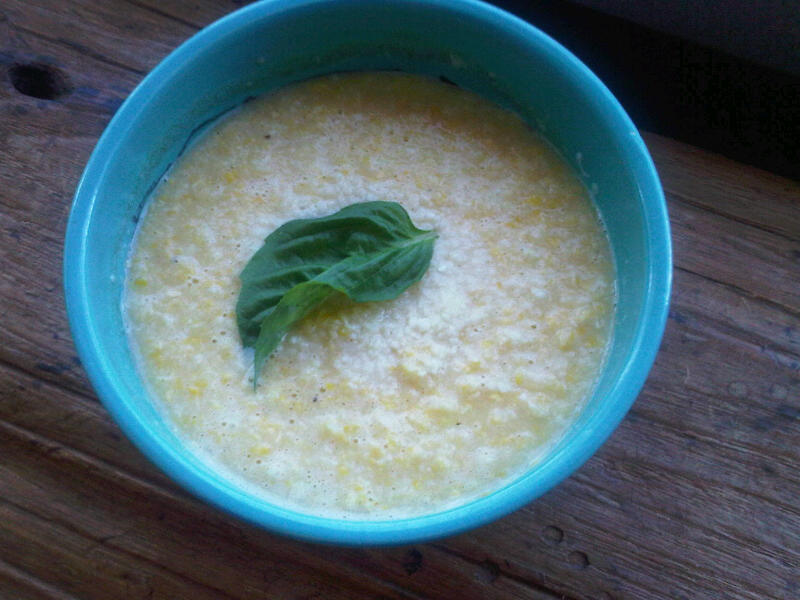 Author Notes: This recipe was born from 4 goals: 1. Corn is the star of the dish. 2. It is simple to make. 3. It is light eating on these summer nights. 4. Fennel has to be included.

I ran across an article by Vitaly Paley who explained the benefits of using corn husks to make stock. That was the inspiration that sent me to the Farmer's Market and spending the rest of the week-end perfecting this recipe. - SKK

- SKK
Food52 Review: SKK's recipe is the perfect summer soup; refreshing, light, and vibrant with the flavor of sweet corn. If you want a really silky texture, process thoroughly or strain the soup before serving. And of course, use the freshest corn you can find -- it makes all the difference. - Annie "Smalls"
Makes 4 cups
Corn Husk and Fennel Stock
Husks from 3 ears of corn, about 3 cups

Fennel fronds from 2 fennel bulbs, roughly chopped

1

onion, roughly chopped

2

liters water. The water amount is approximate, the idea is to just cover the greens.

1

teaspoon sea salt -1/2 tsp. per liter
Place ingredients in stock pot, bring to boil and simmer for 45 minutes. When done, strain the stock and set aside.
Corn Soup
3

cups corn cut off cob

2

cups water

1

tablespoon honey

1

cup corn husk fennel stock

2

teaspoons lime juice

1/8

teaspoon cayenne

2

tablespoons heavy cream

salt and pepper to taste

grated parmesan for garnish

basil chiffonade for garnish
Bring water and honey to a rolling boil. Add corn and cook for four minutes. When done drain and set aside. Be careful not to overcook the corn.
In food processor place 1 cup of the corn husk fennel stock, lime juice, cooked corn, cayenne, heavy cream and salt and pepper to taste. Process until desired smoothness.
Serve either warm or at room temperature, garnish with about 1 tablespoon of grated parmesan cheese and basil chiffonade.
Jump to

Comments

(

27

)
Tags: can be made ahead, easily expandable, served warm or at room temperature, travels well