Chicken Fried Macaroni and Cheese
180
Save
If you like it, save it!
Save and organize all of the stuff you love in one place.
Got it!
If you like something…
Click the heart, it's called favoriting. Favorite the stuff you like.
Got it!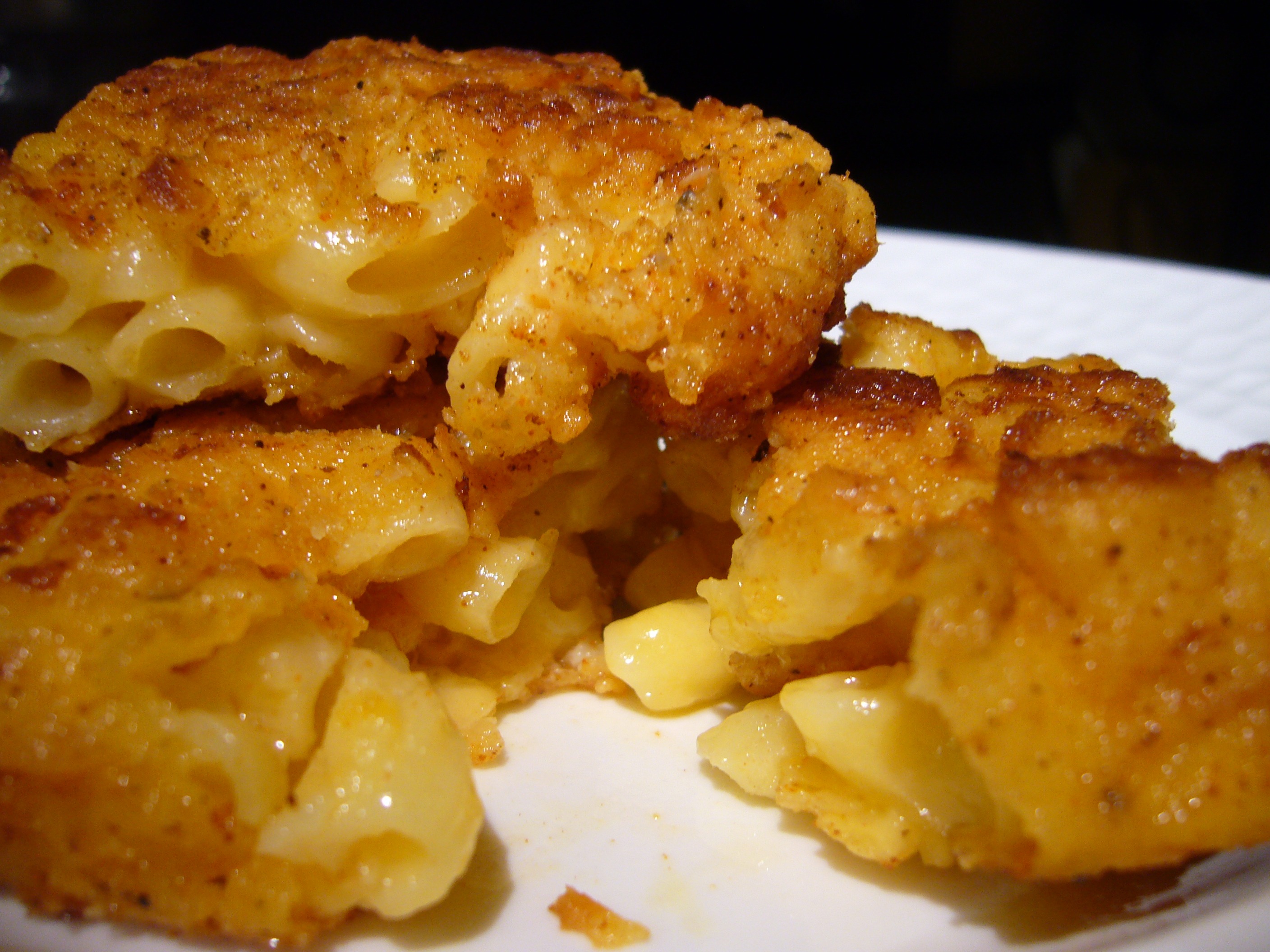 Author Notes: We occasionally order fried mac n cheese at Swanky Frank's in Norwalk, CT, or wherever else we spot the stuff. I've always wondered, "can I make this at home??" So here's my version, sorta ramped up if you will, chicken-fried style. I adapted the dredging recipe from the Chicken Fried Steak recipe over at Saveur.

The kids prefer a milder cheese, so if that's your liking, replace some of the sharp cheddar with a milder cheese, like American, which has awesome meltability. - mrslarkin - mrslarkin
Food52 Review: Hubby walked in just as I finished frying a few pieces of the Chicken Fried Macaroni and Cheese. He took one look and his eyes glazed over just a bit. I think he even started drooling. A few minutes later, the first batch was gone and he was asking for more. Crispy, cheesy and gooey ... A great appetizer that requires few ingredients and comes together quickly and easily. The man or woman in your life will be happy if you make this for them. - Susige - Susige
Serves a whole mess
for the macaroni and cheese
1

pound elbow macaroni

1

cup heavy cream or milk

12

ounces shredded sharp cheddar (about 3 cups)
for the dredging
2

cups flour

2

teaspoons paprika

2

teaspoons kosher salt

fresh cracked black pepper to taste

1

cup buttermilk

2

teaspoons Tabasco

1

large egg

vegetable oil for frying
FOR THE MACARONI AND CHEESE: Cook macaroni to al dente. Drain and set aside.
Spray a 9" x 13" cake pan with Pam and set aside.
In the same pasta pot, heat cream/milk and cheese over medium-low heat, stirring until creamy and smooth. Remove from heat.
Add cooked macaroni to the cheese sauce. Mix very well.
Spread macaroni and cheese into the greased pan, smoothing with a spatula. Freeze until firm for about a half an hour, or refrigerate overnight.
Cut macaroni in the pan into about 20 squares. A bench scraper works well. Just eyeball your lines and press directly downwards with the bench scraper. Or use a ruler.
FOR THE DREDGING AND FRYING: Heat 1/2" vegetable oil in a frying pan over medium heat.
In a shallow bowl, mix the flour, paprika, salt and pepper.
In another shallow bowl, whisk the buttermilk, Tabasco and egg.
Using a skinny/bendy metal spatula, remove a few squares at a time. Keep unused squares chilled. Dredge each square of macaroni in flour, then egg, then flour, shaking off the excess.
Fry macaroni squares until golden, then flip and fry other side until golden. Drain on paper towel-lined cooling rack set over a sheet pan.
Sprinkle with some flaky sea salt if you've got it, or kosher salt is just fine, too. Serve hot with a spicy marinara or gravy, or just plain ol' ketchup.
Tags: cheesy fried goodness, OMG, this ain't no diet food