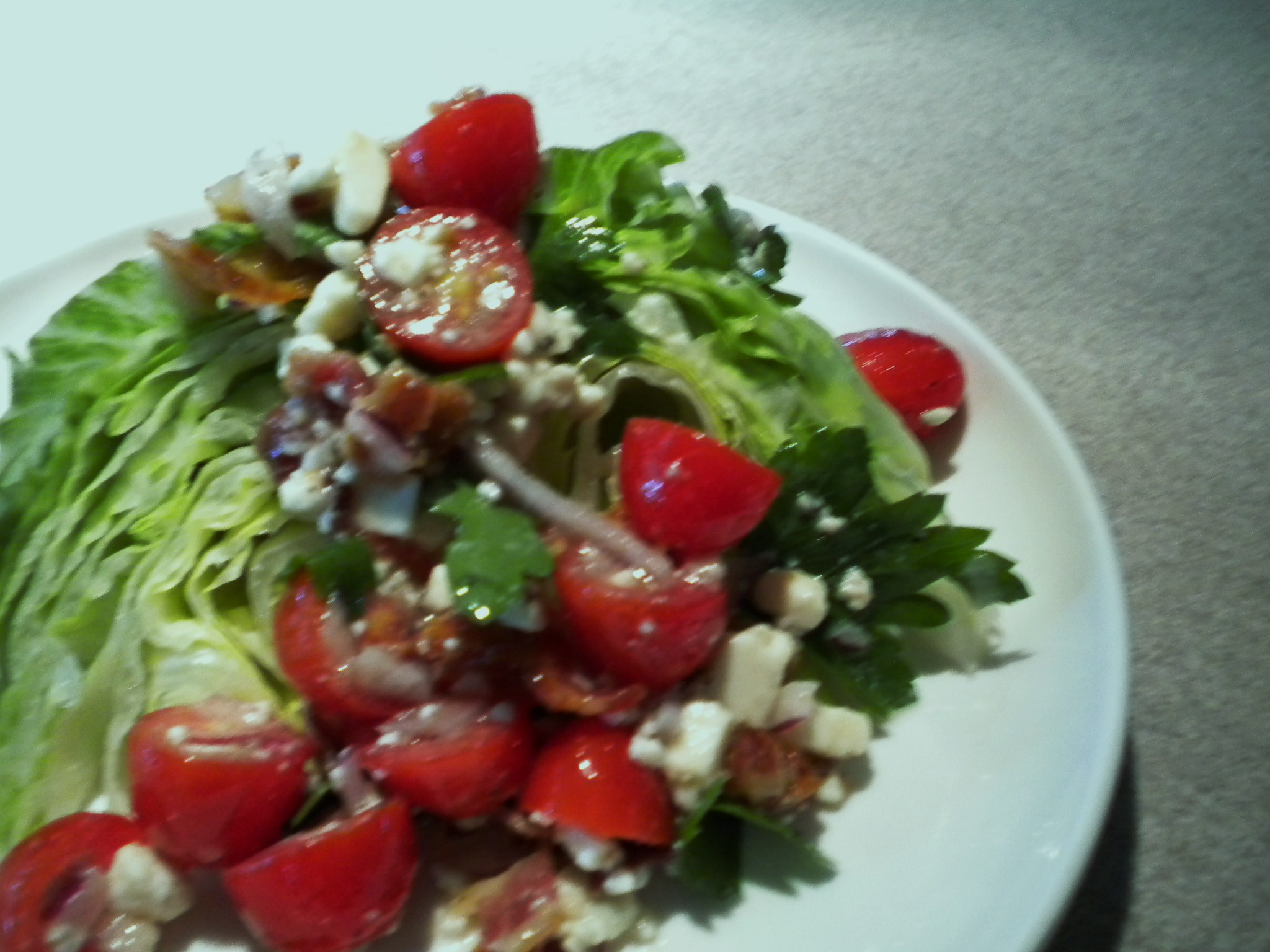 Author Notes: From the early 1960s until the mid 90s the Machus Restaurants were the place to go for American fare here in Metro Detroit. There was the Sly Fox, Foxy's, The Red Fox and a number of others. Actually, it was leaving The Red Fox where famed Teamster boss, Jimmy Hoffa, was last seen. The Machus Group is no longer, but the signature salad is always on my mind.... tossed iceberg lettuce with onion, tomato, blue cheese and olives and a sweet and sour dressing. I've taken some of the elements here and placed them on a wedge of lettuce...blue cheese, but not heavy blue cheese dressing on this baby. - inpatskitchen
Serves 4
For the dressing
1/2

cup vegetable oil

1/3

cup rice vinegar

4

tablespoons granulated sugar

1

teaspoon Dijon mustard

1/2

teaspoon salt

1/4

teaspoon black pepper
Place all ingredients in a jar with a lid and shake, shake, shake.
For the wedge
1

pint small cherry tomatoes or grape tomatoes

6

slices bacon, cooked crisp and crumbled

3/4

cups crumbled blue cheese (or gorgonzola if you prefer)

1/2

cup diced red onion

Maybe 10 to 15 flat leaf parsley leaves (use your judgement)

The sweet and sour dressing

1

head iceberg lettuce cut into 4 wedges
Halve the cherry or grape tomatoes and gently stir in the bacon, blue cheese, onion and parsley.
Gently toss the salad with about 1/2 of the dressing. Add more if you feel you need it.
Place 1/4 of the tomato salad over each of the lettuce wedges.
Jump to

Comments

(

5

)
Tags: blue cheese, cherry tomatoes, retro, sweet and sour