Pureed Kale & White Bean Soup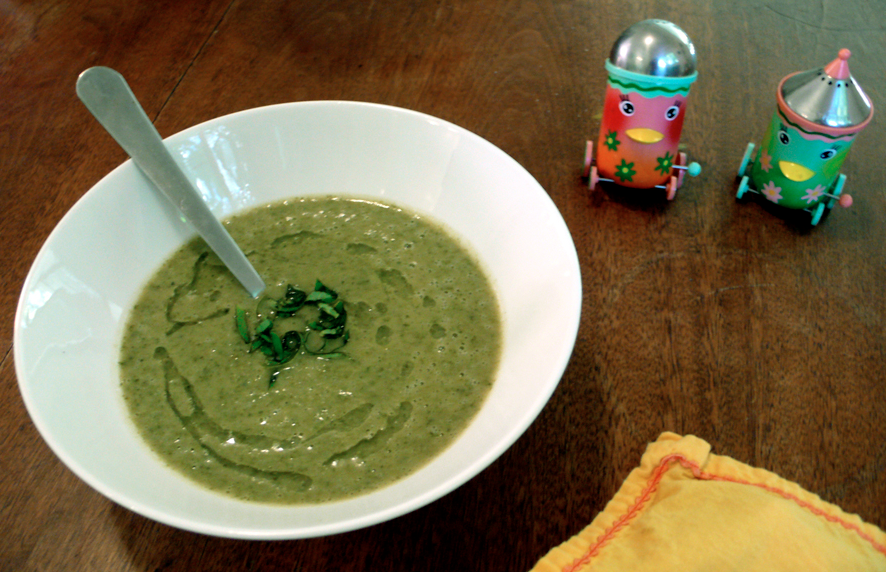 Author Notes: Most soups are deceptively simple to prepare and this one is no different. Just take care not to overcook the kale as you want to keep the integrity of the color in order to maintain the vivid green. You can also use Swiss chard.

For the vegetarians in the house, simply substitute the bacon with butter, and the chicken stock with vegetable stock. But make sure to add a little extra salt, to compensate.

This dish would pair beautifully with a very light Pinot Noir, perhaps the La Crema, Sonoma Coast '07, and a few chunks of a rustic loaf.
- F for Food
Serves 4
1

strip of bacon

1

tablespoon olive oil

1

medium onion, coursely chopped

2 1/2

cups loosely packed kale leaves, coarsely chopped

2

cloves chopped garlic

1

small sprig of rosemary

3

cups cups (approx. 2 cans) of cannellini beans

1 1/2

cup chicken stock

1 3/4

cup water

4

large basil leaves, chiffonaded

2

tablespoons truffle oil

Salt & fresh cracked pepper to taste
Toss chopped bacon into pot over medium heat, allow to cook for a minute or two, until fat is rendered. Add olive oil, onions garlic, and rosemary. Stir occasionally for five minutes or so, until onions are translucent, garlic browns, and bacon is cooked.
Add chopped kale and stir for a 5 minutes or so, until wilted.
At this point, add the drained beans and stir for a few seconds. Then add the stock and water and let cook until the soup thickens to a nice consistency.
Let cool enough to transfer to a blender (or use an immersion blender) and puree until smooth. Transfer back to pot and reheat. Add salt and pepper to taste.
Ladle into bowls, garnish with basil, drizzle with truffle oil and serve.
Jump to

Comments

(

5

)
Tags: greens, kale, rustic, savory, simple, soup, swiss chard, white beans