New England Pear Harvest Tart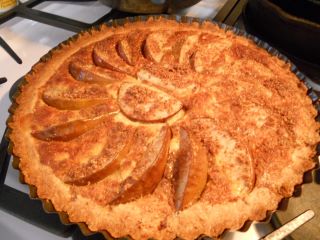 Author Notes: Elsie Masterton's Blueberry Hill Kitchen Notebook has a German Peach Pie which delighted me when I made it, and stayed in my mind as a favorite, as a memory. When I found some beautiful little Red Bartlett pears, the memory fused with some new elements to make this recipe. Less sugar, filo sheets in lieu of crust, buttermilk and brown sugar to compliment the pears -- it's a beautiful sight! In my photo I used a standard pie plate, conventional crust -- either way, I'm making it for Thanksgiving this year. - susan g
Serves 8, more or less
2 - 4

sheets filo dough, or a pie crust

sprayable oil or melted butter, if using filo

6

tablespoons almond meal

3

small ripe but firm pears

2

eggs

1/4

cup brown sugar

1/4

cup white sugar

1/4

cup buttermilk

2

tablespoons melted butter

whole nutmeg
Preheat the oven to 425 degrees. In a baking pan, 9.5 x 6.5 x 2" (or similar area), lay filo dough, cut to fit (about 1/2 sheet). Spray the filo with oil and sprinkle with 1 Tb almond meal. Repeat to make 4 layers. If using pie crust, prepare it in a 10 inch pie plate.
Cut the pears in quarters, unpeeled. Cut out the stem, seeds, and blossom end. Line them up on the crust artfully, skin side up.
Mix eggs, sugars, buttermilk and melted butter. Pour over the baking pan, around the pears. Sprinkle 2 Tb almond meal on top. Grate the nutmeg over it to taste.
Bake for 20 minutes, then lower the oven heat to 325 degrees. In 10 minutes check the pan. When the pears are cooked through and the custard is puffed and browned, take it out to cool a bit -- wonderful served warm, maybe with some cream.
Jump to

Comments

(

5

)