Whole Grain Sweet Potato Muffins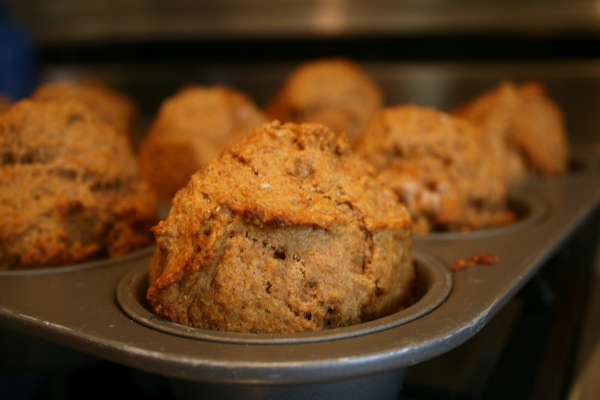 Author Notes: This is an easy to make, one bowl sweet potato muffin recipe--with lots of aromatic spices. Plus, it's made with whole-wheat flour and is NOT a hockey puck. The only "extra" step is pre-roasting your sweet potatoes! Read more at http://threecleversisters.com/2011/02/11/whole-grain-sweet-potato-muffins/
This recipe was inspired by a variety of sources, including Mark Bittman and Kim Boyce. - sarabclever
Food52 Review: I am eating my (first) muffin as I type. I love it. I love the way it looks with its rustic knobbled cap. Love that it is earthy and nutty and not too sweet, and because the flour is pastry flour it still manages to be light and fluffy. Love the amount of spice and the crunch of the top and love that they fall on the healthy side of the muffin fence without making you feel like you are being deprived of a Sunday treat. I will make these again and again, may stir in some golden raisins next time. - aargersi
Serves 8-12
2.5

cups whole wheat or whole wheat pastry flour

3/4

cups sugar or brown sugar

2

teaspoons baking powder

1/4

teaspoon baking soda

1

tablespoon cinnamon

1/2

teaspoon nutmeg

1/4

teaspoon allspice

1/4

teaspoon salt

1/4

cup melted butter

1/4

cup vegetable oil

1

cup mashed sweet potato (roasted)

1

egg

1/2

cup yogurt, buttermilk, or milk soured with one teaspoon white vinegar or lemon juice
Note: If you haven't roasted your sweet potato already, pierce all over with a fork and roast for 45 minutes to an hour at 400F until a knife slides through without resistance. Allow to cool.
Preheat (or reduce, if you followed step one) the oven to 375. Grease or line with paper liners 12 muffin cups. Mix the dry ingredients in a large bowl. In another bowl mix together the remaining ingredients, and fold these wet ingredients into the dry mixture until just combined. This batter is thick. You may have to add more liquid, depending on whether you use buttermilk, vinegared milk, or yogurt.
Fill the muffin cups approximately 3/4 full and bake for 20-25 minutes. Allow to cool for five minutes, then twist the muffins out and set on their side over the wells in the muffin pan (as shown above). This will allow the muffins to cool without getting gummy and damp.
Jump to

Comments

(

11

)