Beetroot "Risotto Style" Millet with Parmigiano and Thyme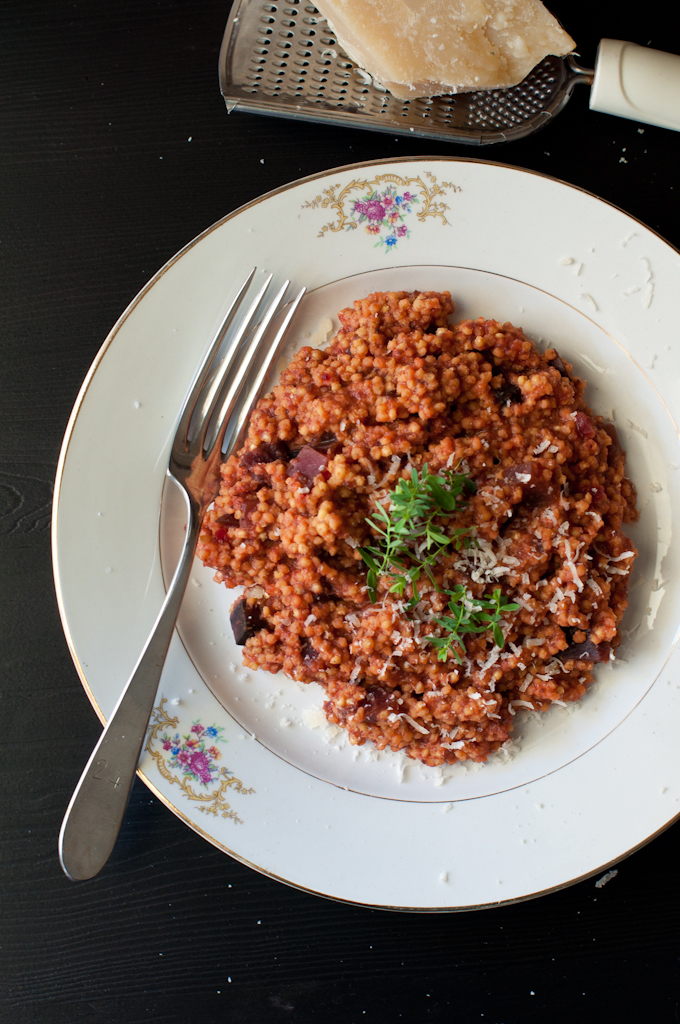 Author Notes: I got a beautiful beetroot form a friend/farmer and wanted to experiment with it. I love millet and I am trying to see how versatile it can be. I made up this recipe from sratch, looking for something new.

It ended up being a very different dish from a risotto --less creamy and starchy-- but very interesting nonetheless. Kernels were well separated and perfectly combined with the rest of the ingredients: very simply beetroot, parmigiano and thyme. - Valeria Necchio
Serves 2
1

cup uncooked millet

5

cups hot vegetable stock

1

garlic clove, pealed and pressed

1 1/2

tablespoon extra virgin olive oil

1 1/2

cup steamed beetroot, diced

1/4

cup grated Parmigiano Reggiano

salt, to taste

fresh thyme, to taste
In a medium saucepan, heat 1 T olive oil over medium fire.
Add the garlic clove and fry for 5 minutes, then remove it.
Add diced beetroot and stir fry for 5 minutes.
Add millet and toast it over medium fire, stirring from time to time, about 3 minutes.
Add hot stock 1 cup at a time, letting it get absorbed completely before pouring another cup.
Once stock is almost all absorbed and millet cooked, turn off the fire and season with 1/2 T olive oil.
Add parmigiano and stir well, until cheese is blended and melted. Add salt if needed
Serve warm with thyme leaves and parmigiano to taste.
Jump to

Comments

(

2

)
Tags: beetroot, fall recipe, gluten free, millet, Side Dishes