Cherry-Marinated Beef Round Roast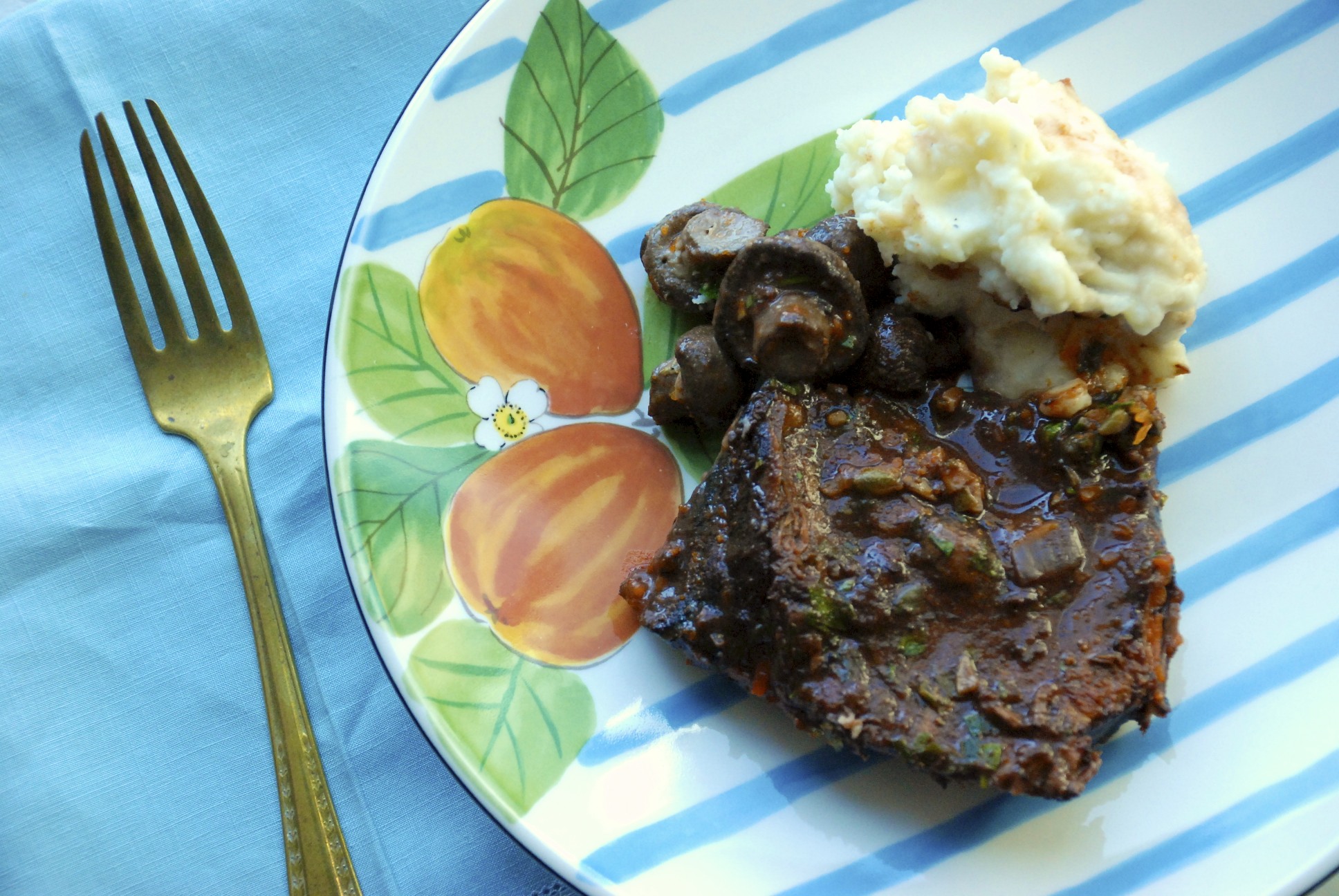 Author Notes: This recipe came about for a few reasons. My desire to participate in this contest happened to dovetail nicely with the increasingly chilly weather. Now, when the weather gets colder, I can count on one thing: my Frenchman (sous chef/boyfriend) will start asking for bœuf bourguignon. Please understand, I love the man, but normally I am not thrilled about making it. The dish takes more than a day to prepare, and requires an inhuman amount of straining. But, when this contest came up, I decided to make him and me happy with my version of a roast-bourguignon. Since I studied at Le Cordon Bleu, my recipe utilizes the skeleton of their bœuf bourguignon recipe. (Note: I will not ask you to tie your herbs inside a leek leaf, nor will I yell at you if your mirepoix is not uniformly chopped). My version also includes cherries and cherry brandy, which I think proved a tasty addition. Of course, this is not an everyday dish, as it takes far more time to make than I normally put into dinner. However, it does make for an impressive dinner party—especially if you uncover it dramatically at the table before you slice it. I served my roast with buttery potato puree, garlicky roasted mushrooms, peppery arugula salad, and later, tarte tatin for dessert. My guests did not complain, and my boyfriend was pretty happy too. - cristinasciarra
Serves 7 moderate portions
1

beef round (3lbs provides 7 moderate portions)

3

medium carrots

1

medium yellow onion

3

stalks of celery

3

smashed garlic cloves

2

bay leaves

5

thyme sprigs

3

rosemary sprigs

1

cup of cherries

1/4

cup cherry brandy

1

liter dry red wine

1

tablespoon unsalted butter

2

tablespoons olive oil

6

ounces of tomato paste

2

cups of beef stock

1

small bunch of parsley

*a sieve or cheesecloth
Peel and roughly chop the carrots and onion, chop the celery and smash the garlic. (This does not have to look pretty; it is just to season the meat). Remove the pits from your cherries, and smash them up a little. (If you cannot find cherries, you can use canned sour cherries, but make sure they are unsweetened!)
Pat any excess moisture off the beef round, and then place it at the base of a large metal bowl. Around it, arrange the aromatics (carrots, onion and celery), the garlic, the herbs (bay leaves, thyme and rosemary), the cherries, the cherry brandy, and the wine. (You want the round to be entirely covered, so if it isn't, add a little more wine, or cover the top with wine-soaked herbs, cherries, and aromatics). Cover the bowl with plastic wrap, and store in the fridge for 24 hours.
After 24 hours, remove the round to a plate, and pat dry. Separate the aromatics, herbs and cherries from the liquid marinade. Boil the liquid marinade for about 10 minutes, skimming as you go. (This is important, as there might be unpleasant things in the raw meat). After 10 minutes, run the marinade through a sieve or cheesecloth. Reserve.
Preheat the oven to 400°F.
In a Dutch oven (mine is 6 liters), heat the butter and the olive oil on medium-high heat. When slightly bubbling, add the round and sere for a few minutes on each side. Then remove the round to a clean plate.
Lower the heat slightly, and add the aromatics, herbs and cherries. Cook them long enough to caramelize them slightly, about 15 minutes. Add the tomato paste and the beef stock, and bring to a boil. Add the liquid marinade, and incorporate. Finally, add the round. Baste in the boiling braising liquid.
When your oven reaches 400°F, cover the Dutch oven, and cook for 1 hour - 1 hour and 15 minutes. (Check after 1 hour, to ensure your meat doesn't dry out)
After 1.5 hours, remove the beef round and cover with foil. Strain the liquid, aromatics, herbs and cherries through a sieve or cheesecloth into a medium saucepan. Discard all the solids.
Boil the sauce for about 15 minutes, skimming frequently, in order to thicken and purify the sauce. When the sauce sticks to the back of a spoon, remove it from the heat. Season it, and strain again.
Wipe your Dutch oven clean. Place the round back inside of it, and cover it in the sauce. Place the top back on, until you are ready to serve. Just before serving, reheat gently, and sprinkle the whole thing with chopped parsley.
Jump to

Comments

(

3

)
Tags: Beef, holiday, holiday, serves a crowd, tasty leftovers