SAGE HONEY BRINED ROAST CHICKEN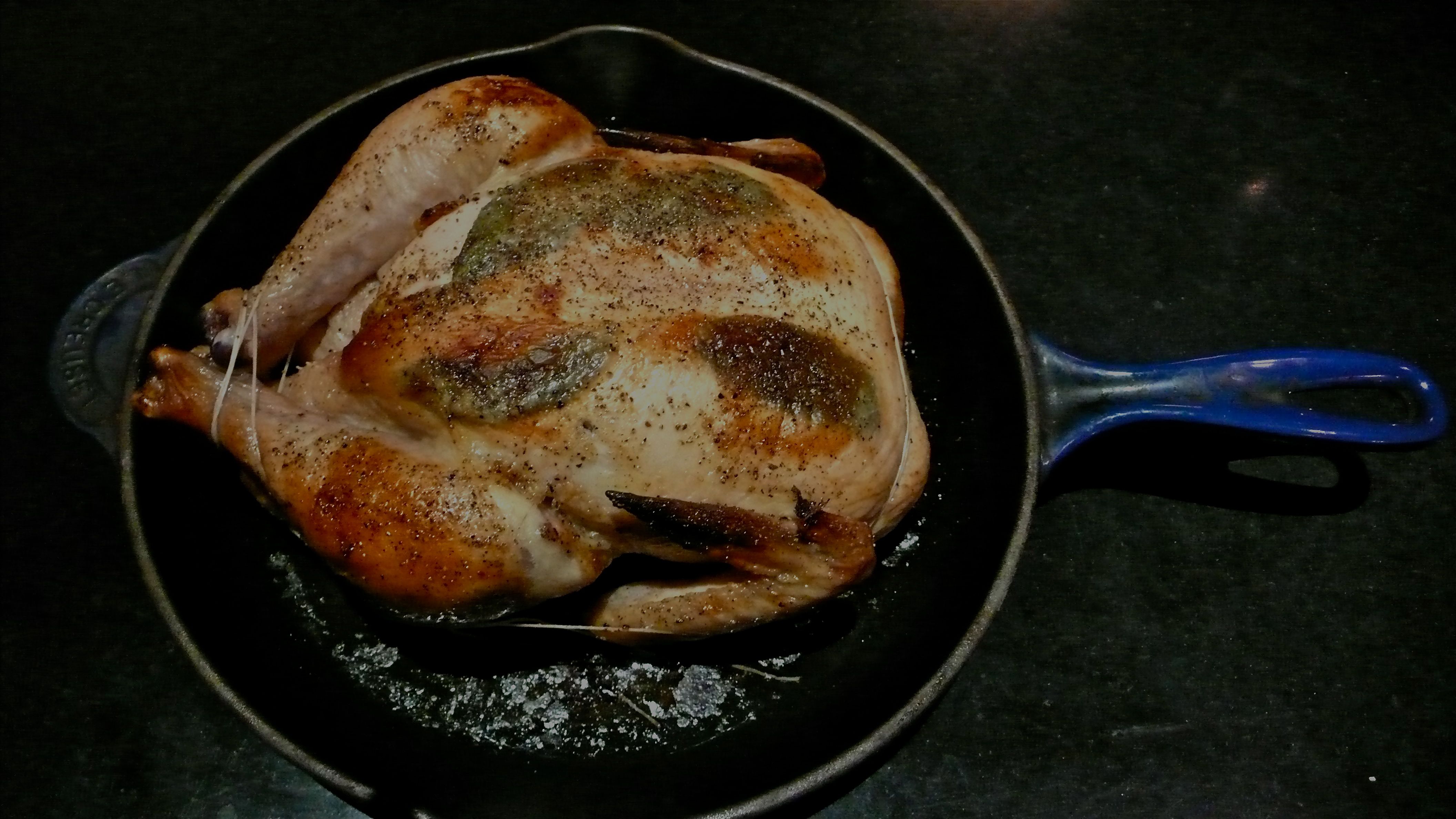 Author Notes: This recipe got Freddy's enthusiastic approval. He liked that the chicken still tasted like chicken; the other ingredients did not cover the goodness of the chicken. I love the taste of sage and it grows faster than a weed in my kitchen garden. Floozy and Smuggler (Portuguese Water Dogs) love to use it as a pillow, too. The brines requires starting a day ahead of time to let the brine cool. The next morning put the chicken in the brine and then later remove and roast for dinner. Easy Peasy! - dymnyno
Food52 Review: Dymnyno's Sage Honey Brined Chicken is the first roast chicken recipe I've tried since joining FOOD52 that is good enough to join Amanda's Spatchcocked and Braise Roasted Chicken on our dinner rotation. It's one of those marvelously subtle recipes that allows you to revel in the main attraction, in this case, a perfect roast chicken. Sage honey isn't common here in the East, but is readily available by mail order, and it was worth the effort to source it. Combined with the fresh herbs, peppercorns, and sea salt, it made a lovely brine that resulted in a roast chicken that was not only moist and flavorful but also gave the skin a fabulous mahogany "glaze." The only thing we did differently was to "quick-cool" the brine; combining the ingredients in one gallon (instead of 1 1/2 gallons) of water, and then cooling it down immediately with ice cubes so we didn't have to wait around. (The Spouse and I are not known for being patient LOL.) - wssmom - wssmom
Serves 4
Brine
12 to 16

fresh sage leaves

1

bunch parsley(any kind)

1

bunch thyme

1/2

cup sage honey

6

garlic cloves, peeled and smashed

1/2

cup fresh black peppercorns

1 1/2

cup sea salt

1 1/2

gallon water
The Chicken
1

whole chicken

2-6

fresh sage leaves

freshly ground black pepper
For the brine: Put all the ingredients in a large pot and bring to a rolling boil for a couple of minutes and stir until the salt is all dissolved.
Remove from the burner and cool for at least a couple of hours.
Strain and discard the solids. Refrigerate until ready to use.
Rinse and dry the chicken and put into the brine for about 8 hours.
Cry and truss the chicken. Sprinkle liberally with black pepper. Bake in a 375 degree oven for about 40 minutes, depending on the size of the chicken. Check that the temperature is 160 degrees in the thickest part of the chicken.
Remove from the oven and let the chicken rest for 15 minutes before carving.