Spiced Corn Chowder Provencal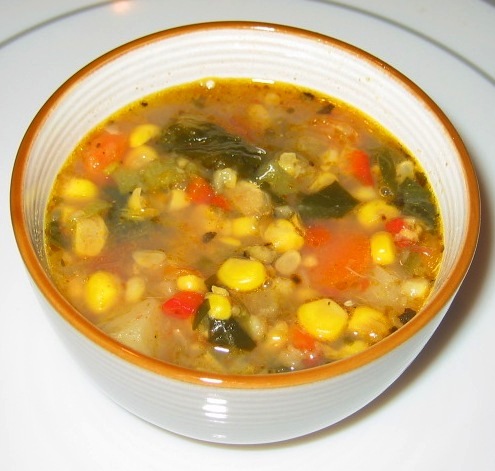 Author Notes: While preparing to reap the benefits of the garden one year, I discovered a corn chowder recipe in Chile Pepper magazine (Feb.1998) and immediately modified it to my taste; a bit lighter on the heat and cream used, adding potato, garlic and smoked paprika. Also, in addition to the fennel seeds, I added a dash of fennel pollen for its hint of sweetness; the pollen gives an extraordinary flavor, a little goes a long way.

I've made this recipe every year since discovering the Chile Pepper version and a year ago I was inspired by Food52-SKK's corn soup to use corn husks to make my stock. Not only did I use the husks but I tweaked, using the silks and de-kerneled corn cobs as well.

The vegetables and aromatic spices used in this recipe are some typical cuisine eaten in the Provence region of southern France bordering the Mediterranean Sea, they resemble Italian, Greek or Spanish cuisine; I just happen to be of Italian, Spanish and French descent...so seriously, this flavor profile has always been an essential in some form ever since I can remember!
- lapadia
Makes 10 to 12 large servings
CORN STOCK
Husks, Silks and De-Kerneled cobs from 1 lb ears of corn

1 tablespoon Himalayan sea salt

8 cups water
Place ingredients in a stock pot and bring it to a boil, simmer for 45 minutes. When done strain the stock and set aside until needed.
CHOWDER
3 tablespoons olive oil

1 lb fresh corn - kernels scraped from cob

1 large potato, peeled and diced

1 cup diced sweet onion

1 cup diced carrots

1 cup diced celery

1 cup diced sweet bell pepper - use either red, orange, yellow or a mixture

1 large jalapeno - seeds are optional

2 large garlic cloves, smashed and chopped

2 cups fresh spinach

1-1/2 teaspoon Himalayan sea salt

2 teaspoons fennel seed

1/8 (heaping) teaspoon fennel pollen (or a large pinch)

1 teaspoon smoked paprika

1 teaspoon ground cumin

1 teaspoon dry oregano

1/4 teaspoon red pepper flakes

1/2 teaspoon ground lemon pepper

6-7 cups corn husk stock (use chicken if you don't have the stock)

Cream on hand to top the bowls of soup
Heat olive oil in a large heavy bottom soup pot.
Sauté the corn, potato, onions, carrots, celery, peppers, garlic and spinach over medium heat until soft…about 20 minutes.
Add the spices, stir to mix well and cook 5 minutes longer.
Add stock, mix well, and reduce heat to low and simmer, partially covered for 45 minutes to an hour.
Serve hot with 1 or 2 tablespoons cream added as garnish.
Jump to

Comments

(

14

)