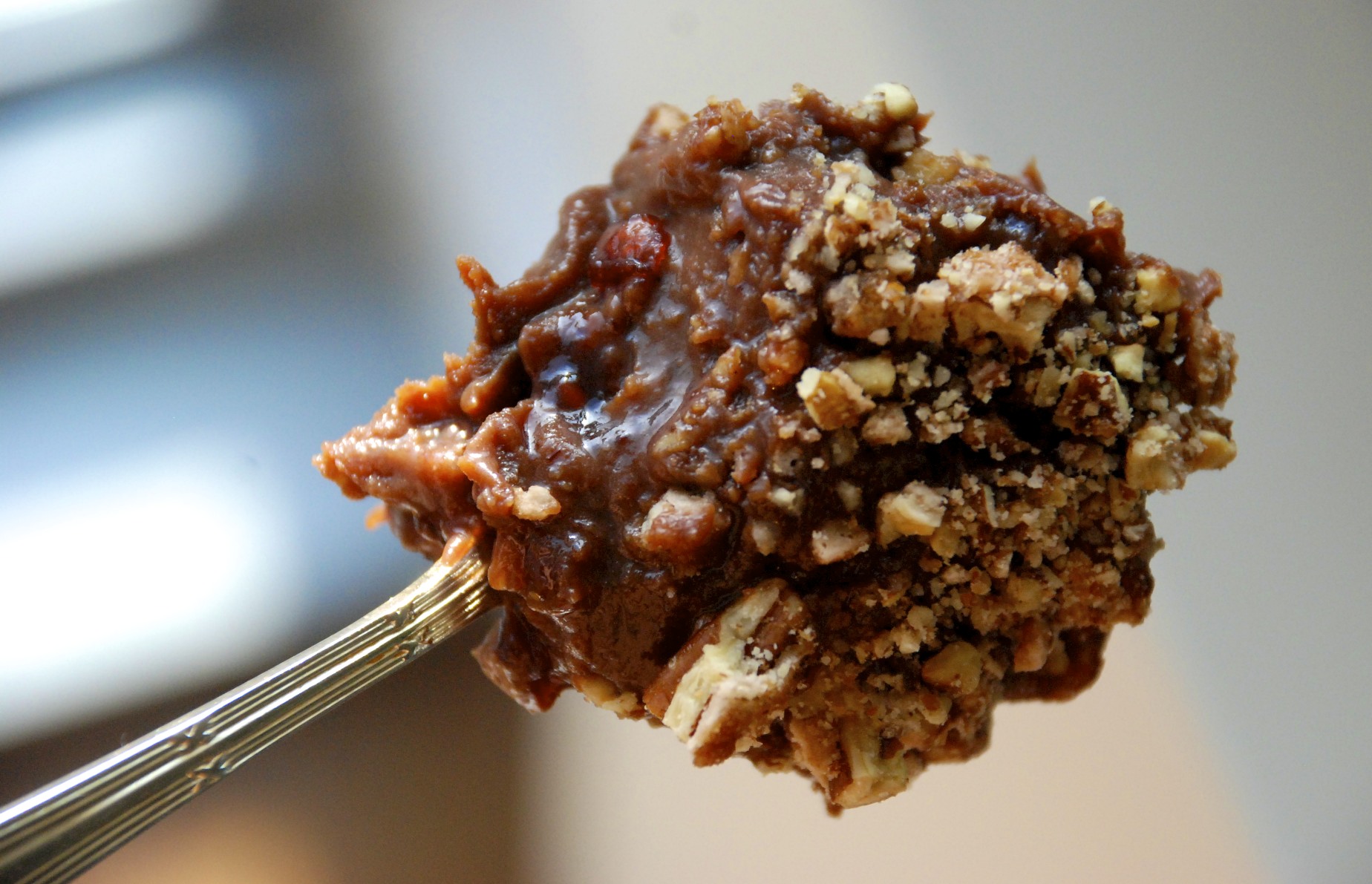 Author Notes: This recipe did not turn out how I intended. Initially, I had lofty goals of creating a duel-layered, rich chocolate fudge--between the first layer bright fruit preserves, and on top, crushed candied pecans. When I cut this well-behaved fudge into perfect little squares, I would be left with a tray resembling little holiday gifts. However, since I decided to half-haphazardly combine elements of every fudge recipe I came across, the result wasn't so clean. I was left with a fudge that didn't quite solidify, even after hours of chilling. In the end though, it didn't matter very much--my friends simply attacked the pan, family-style, each wielding their own spoon. If you would rather serve these in a more formal setting, though, I suggest spooning a large bite onto individual spoons, and serving them on a tray. They are rich enough so one bite is satisfying, and would be a good idea for a dinner party. - cristinasciarra
Makes 8x8 pan
1/2

cup white sugar

1/4

cup light corn syrup

1

14-ounce can sweetened condensed milk

1

cup heavy cream

1/8

teaspoon sea salt

1

bar (100 grams) dark chocolate (80% or higher)

2

tablespoons unsalted butter

1

teaspoon pure vanilla extract

zest of 1/2 an orange

1

tablespoon fruit brandy (I used cherry)

1/2

cup milk

1

cup jam (I used cranberry and raspberry)

1

cup candied pecans
Line an 8x8 cake pan with foil, and set aside.
In a large saucepan, combine sugar, light corn syrup, sweetened condensed milk and heavy cream on medium heat. Bring to a boil, cook 5 minutes.
Break the chocolate into smaller pieces. Lower the heat, and add chocolate and butter; stir to combine. Stir continuously until the mixture is smooth and the chocolate is completely incorporated.
Turn off the heat, and stir in the vanilla, orange zest and the brandy. Pour half of the chocolate mixture into the pan, and chill in the refrigerator, 2 hours. Cover the other half, in the saucepan, with foil and set aside.
When the fudge is chilled (it doesn't have to be completely solid), spread the jam evenly. Reheat the saucepan, and add milk as necessary, until the mixture is smooth again. Pour the chocolate mixture on top of the fudge/jam.
In a mortar, crush the candied pecans. Sprinkle evenly over the top of the fudge.
Chill the fudge for another few hours, or until you are ready to serve.
Jump to

Comments

(

1

)