Rosewater-Pistachio Rocky Road
12
Save
If you like it, save it!
Save and organize all of the stuff you love in one place.
Got it!
If you like something…
Click the heart, it's called favoriting. Favorite the stuff you like.
Got it!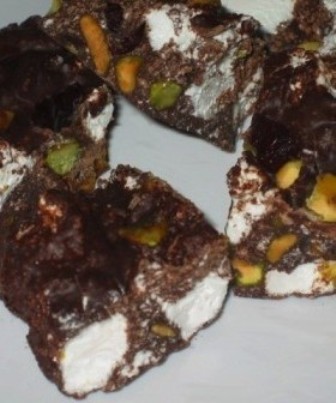 Author Notes: This holiday confection is full of spongy homemade marshmallow chunks with a soft delicate rosewater delight, crunchy pistachios and hints of tart cherries enrobed with a silky smooth dark chocolate.

I have been making rocky road for the holidays, per family request, for many years; in fact, I have the recipe posted on Food52. This year I was inspired to make homemade marshmallow, and, to achieve a spumoni flavor – my favorite holiday ice cream. So I picked up a bottle of rose water, dark chocolate, pistachios and tart cherries, tweaked my old "road" recipe, and adapted a marshmallow recipe and technique taken from Donna Hay's online recipe, one I had filed away, as well as the Joy of Baking and Food52 recipes, combined.

Homemade marshmallow has been on my "to do" list for a while and I can now happily say there is nothing that compares to its airiness; there will be no going back to store bought whenever it is possible to make my own. And, although I didn't quite achieve the spumoni-like flavor I hoped for, I am very pleased with the results of this endeavor, and I hope you will be too!

NOTE: the marshmallow needs to be made any time from 2 weeks to 1 day ahead of making this rocky road. I prefer to make it at least 2-3 days ahead.


- lapadia
Makes about 36 squares, depending on your cut
MARSHMALLOWS
Note: only about half of this recipe will be needed for the rocky road

Candy thermometer, Cooking spray

3 packages of dry gelatin (will use 2-1/2 tablespoons of it)

1/2 cup warm water

1-2/3 cups superfine sugar

1/2 cup plus 1-1/2 teaspoons white corn syrup

1/3 cup water, extra

1-1/2 tablespoon rosewater (not rose extract))

3/4 cup powdered sugar, sifted – to be used for garnish
Lightly spray cooking spray onto an 8x8 inch cake pane and line with parchment paper. Sift about 3 tablespoons powdered sugar onto the parchment, set aside.
Place 2-1/2 tablespoons of the gelatin and warm water in the bowl of an electric mixer fitted with a whisk attachment. Stir well to combine and set aside.
Place the sugar, syrup and extra water in a 2 quart saucepan over medium heat. Bring to a boil and cook without stirring until a candy thermometer has reached the soft ball stage (115°C/240°F) – about 10 minutes. Remove from the heat.
With the mixer running at high speed, gradually add the hot syrup to the gelatin mixture. Beat for 10 minutes or until the mixture is thick and fluffy. Add the rosewater and beat to combine about 30 seconds more.
Scrape the marshmallow into your previously prepared pan, spread as smooth as possible with a damp rubber spatula. Dust the top with sifted powdered sugar, let stand uncovered at room temperature until set…up to 12 hours.
Invert the marshmallow onto a cutting board that has been dusted with powdered sugar. Peel off the parchment; it will be sticky, dust with sifted powdered sugar. Cut into bite size squares (for rocky road) with a sharp knife or kitchen shears. Dip the sides in powdered sugar, shake off excess and store in an airtight container up to two weeks.
ROCKY ROAD - This Rocky Road is made without tempering the chocolate:
18ozs total chocolate = 10ozs 70% dark chocolate and 8oz semi sweet chocolate

3-4 cups homemade rosewater marshmallows cut into bite size pieces

1-1/2 cup pistachio halves and pieces - unsalted or lightly salted

1/4 cup finely minced tart cherries

A baking sheet lined with parchment paper that has been lightly sprayed with cooking spray
Slowly melt 10ozs of the chocolate in a microwave at 50% power, stir to help the melting process after each minute.
When the chocolate has just about melted, stir in the last 8ozs, microwave for 30 seconds at 50% power.
Remove from the microwave and stir until the chocolate mixture is completely melted and smooth.
Quickly stir in the nuts and cherries and then gently but quickly fold in the marshmallows to coat.
Spread the mixture onto the prepared baking sheet, square off and if needed, press down to smooth the top. Let dry at room temperature, 4 hours to overnight.
With a sharp knife, cut into pieces and store in an airtight container up to a week.
Jump to

Comments

(

15

)