Made with Love Lillikoi Pancakes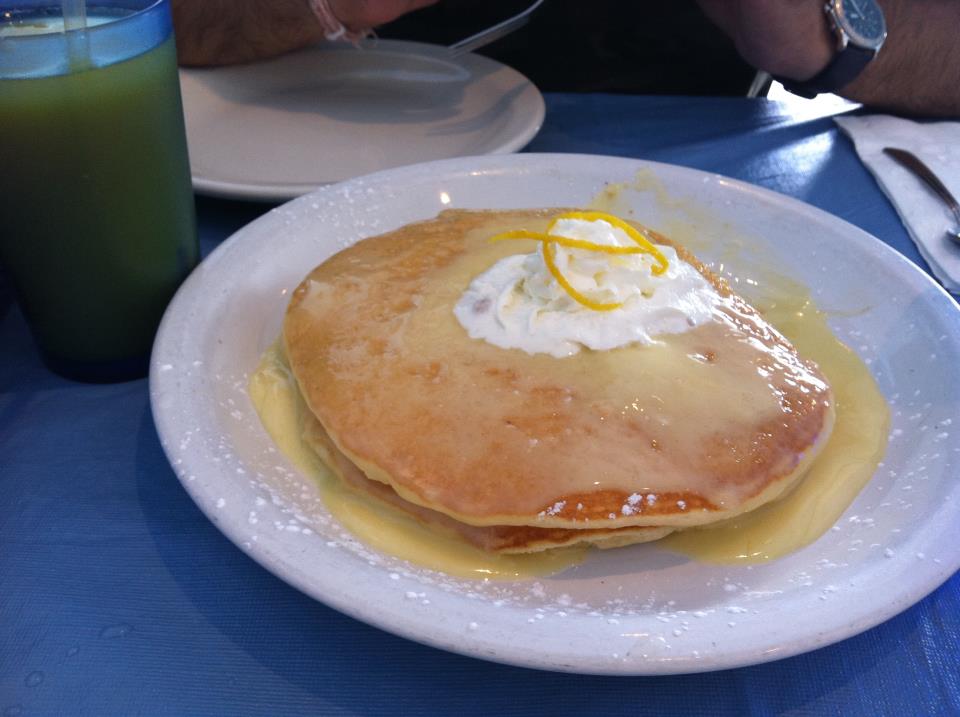 Author Notes: While traveling, I make it a point to try food locally available and at times I research and find out best food joints a place has to offer. Last year, we been to Oahu for our honeymoon and on the last day of the trip we went crazy on trying all the famous stuff that we had made a list of like Leonard bakery's malasada(fried yeast doughnu Portuguese origins), Liliha bakery's cocoa puffs etc etc and Moke's Lillikoi pancakes. You might wonder what is LIllikoi? Lillikoi is nothing but passionfruit in Hawaii. Moke's place is very small joint but serves it's patrons with a big heart. I was so excited to have these pancakes. It was 3 o'clock at noon , they were out of pancake batter, but all of a sudden they told us they would manage to serve us a small stack of pancakes! That's all we wanted! These pancakes were a deal especially the sauce. Not only did we had second serving of the sauce but also did they pack us it in a container, which we later on enjoyed on the beach. I do not know the recipe but I am trying to do some justice what we had at Moke's . So enjoy my version of Lilikoi pancakes in the pancake month February! - PistachioDoughnut
Serves only one person will finish it up!
PancakeS
2

cups AP Flour

1

tablespoon Baking powder

1

teaspoon Salt

1

tablespoon Sugar

1/4

teaspoon Baking soda

1/3

cup Vegetable oil

2

cups Milk

2

yolks

2

whites
Lilikoi sauce
300

milliliters Passionfruit pulp

200

milliliters Milk

300

milliliters Heavy cream

150

Grams of sugar

1

teaspoon Vanilla essence

4

Egg yolks
For the pancake batter, take egg yolks in a bowl and add milk to it and whisk it well. Add oil also. In another bowl tmix all the dry ingredients and mix the dry ingredients to wet mixture. Beat the egg whites till soft peaks form and take 1/3 of the egg whites and mix it in the batter, and then take the remaining whites mixture and gently fold them into the batter. ( first 1/3 egg white is mixed and other remaining is folded). Let the batter sit for five minutes or so.
For the sauce, take milk, cream and about the half sugar in a pan and heat it a little bit till you see bubbles. Remove from heat. Add the vanilla essence and mix it well. Whisk egg yolks in another bowl and remaining half sugar and mix it well. Add in the passionfruit pulp and again mix it well till everything is incorporated.
Now, temper the yolk mixture with a little milk mixture and continuously keep whisking the mixture. Pour this mixture to rest of the milk in the pan. Cook it at lower heat , stirring continuously till the mixture thickens.
Make pancakes and drizzle them with sauce either warm or a little bit chilled. Some whipped cream and lemon zest.
Jump to

Comments

(

2

)