Jackiessoise, a.k.a., Buttermilk Mashed Potato Soup
5
Save
If you like it, save it!
Save and organize all of the stuff you love in one place.
Got it!
If you like something…
Click the heart, it's called favoriting. Favorite the stuff you like.
Got it!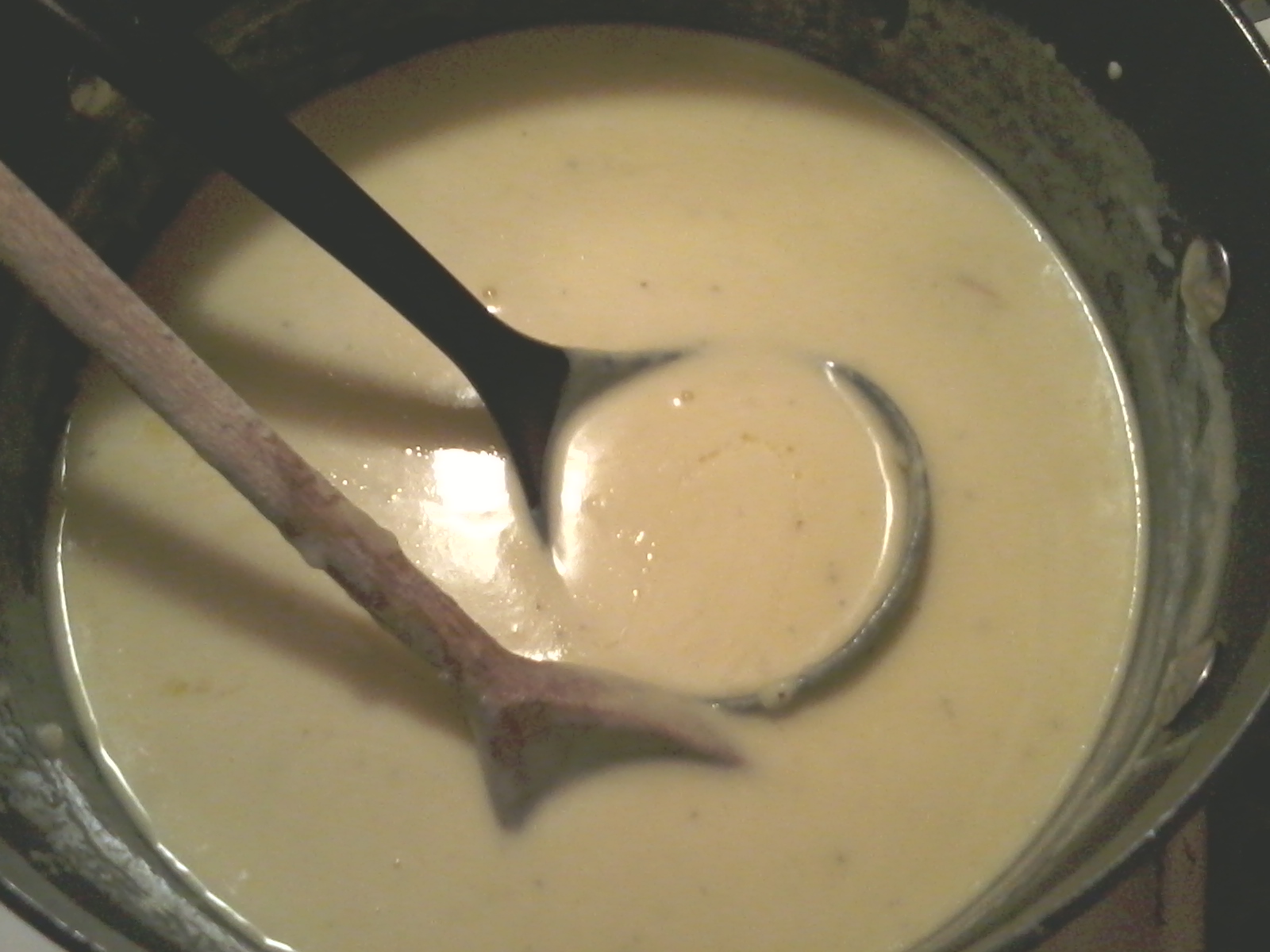 Author Notes: Named for my friend Jackie, whose potato-leek soup recipe inspired this one. - Bogre
Serves 4-6
1/4

pound smoky bacon, diced

2

tablespoons unsalted butter

4

large leeks, white and light green parts only

4

garlic cloves, chopped

2

pounds potatoes, peeled and cubed (I like Yukons; Jackie uses white potatoes)

1

quart vegetable or chicken broth

1

cup buttermilk, well-shaken

1/2

cup sour cream or creme fraiche

1/2

cup heavy cream

salt and lots of freshly ground black pepper, to taste

snipped chives or thinly sliced green onions, to garnish
Halve the leeks lengthwise and cut crosswise into 1/4-inch strips. Wash well and dry.
Cook bacon in a soup pot or Dutch oven over medium heat until crispy and rendered of fat. Remove with a slotted spoon and set aside on paper towels to drain. Pour off (or reserve for another use) all but 2 tbsp of the bacon fat. Lower the heat to medium-low and add the butter. When the foaming subsides, add the leeks, garlic, a generous pinch of salt, and lots of fresh-ground black pepper, then cover and let stew until quite soft, 15-20 minutes.
Add the potatoes and broth and bring to boil, then cover, reduce heat, and simmer until the potatoes are tender.
Remove the pot from heat. Allow to cool a bit. Puree the soup in batches in a blender or food processor, or directly in the pan with an immersion blender.
In a separate, heatproof bowl, whisk together the buttermilk, sour cream, and heavy cream. Temper the cream mixture by stirring in a ladleful of soup at a time, then pour this mixture back into the soup pot and gently heat through. Ladle into bowls and garnish with reserved bacon bits and snipped chives.