Mom's Meatballs and Tomato Sauce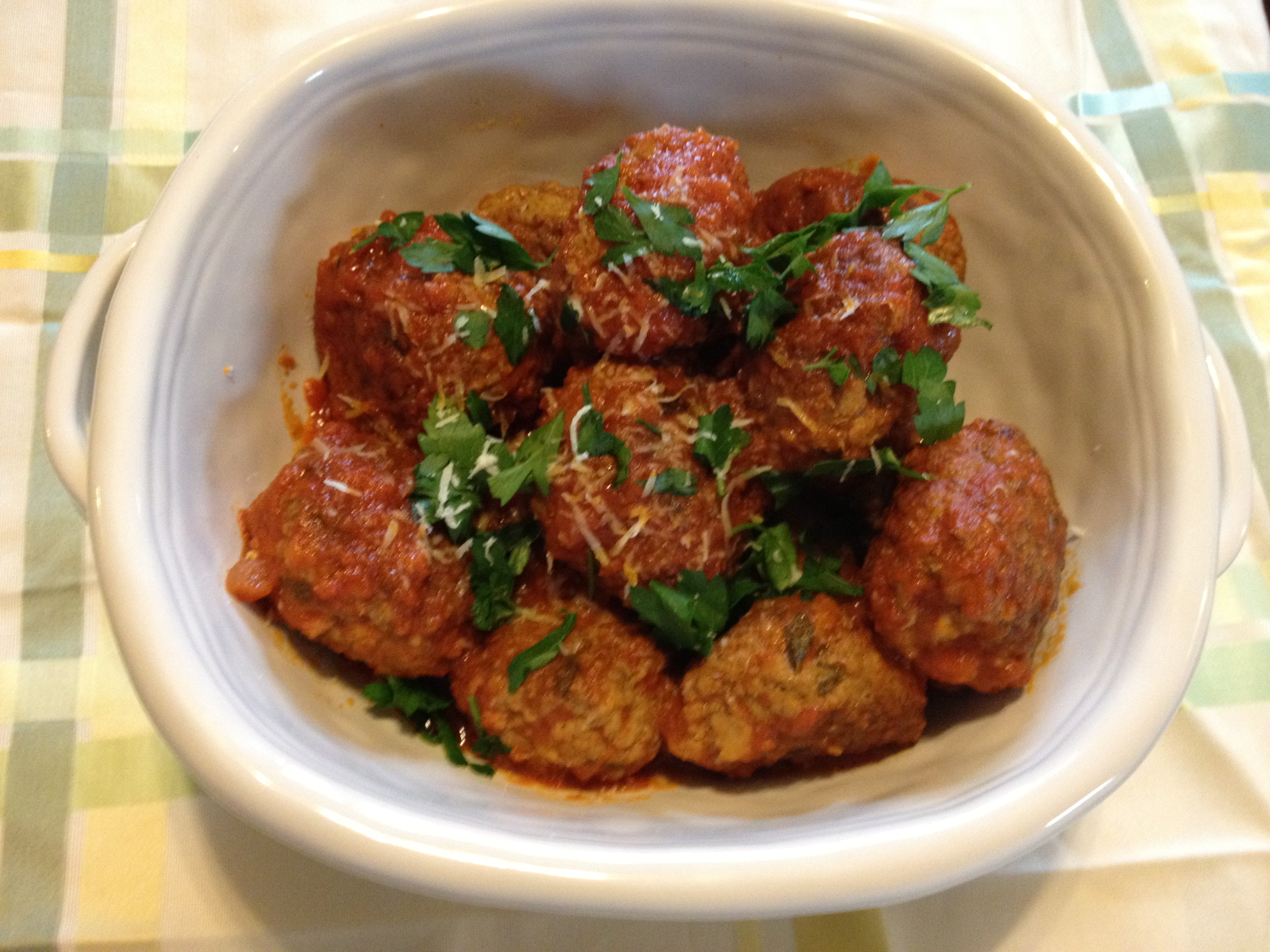 Author Notes: I just recently discovered why my Mothers meatballs are so good, after making them for years and never asking her what her recipe was, I finally decided to and had an ah-ha moment. Previously mine just never tasted like hers and she told me that she adds Italian sausage meat. The meatballs are tender, soft and so delicious. - sdebrango
Makes 16 large meatballs and approximately 8 cups sauce
Meatballs
1

pound ground beef (80%fat) I like chuck

1

pound Italian sausage meat (sweet or hot your choice)

handful italian flat leaf parsley chopped

1/2

cup grated parmigiano or pecorino romano cheese

4

large eggs

5

thick slices (about 1/2 inch thick) bread (I used Italian) with crust removed and soaked in some water until very soft

2

teaspoons salt and pepper to taste

pepper to taste
You will need a large mixing bowl, add the meat and mix with spoon or with your hands. Squeeze the water out of the bread and add to meat along with the parsley, cheese, eggs and salt and pepper. Mix together until it's all combined. Form into meatballs, I like mine about the size of a handball. In a non stick skillet heat some olive oil, place the meatballs about 1 inch apart and fry so they are browned on each side but not cooked through. Remove from the pan and set aside. Keep the oil and drippings in the skillet you will need it for the sauce.
Sauce
3

cloves garlic thinly siliced

1

shallot minced

4.5

ounces tube tomato paste of 3/4 of a 6 oz can

3

28 oz cans whole tomatoes (best quality)

olive oil for pan

5

leaves fresh basil +3 after sauce is cooked

salt and pepper to taste

NOTE: if tomatoes are sour you can add a little sugar, some add carrots to sweeten also
To dutch oven add the oil from the meat that was fried (only enough to coat the bottom of the pan) then the shallot and cook until soft, add the garlic and let it cook until the garlic just starts to brown (takes only about 3 minutes) on medium high heat. Add the tomato paste and cook stirring constantly until it caramelizes. Puree the tomatoes in the blender or food processor until smooth and add to the onion,garlic and tomato paste, stir to combine and then add the meatballs and slow cook on medium/low heat covered for at least 3-4 hours stirring frequently, or if cooking all day use low heat so it just simmers, stirring occasionally. When done remove the meatballs, tear the remaining fresh basil leaves into the sauce, stir and serve.