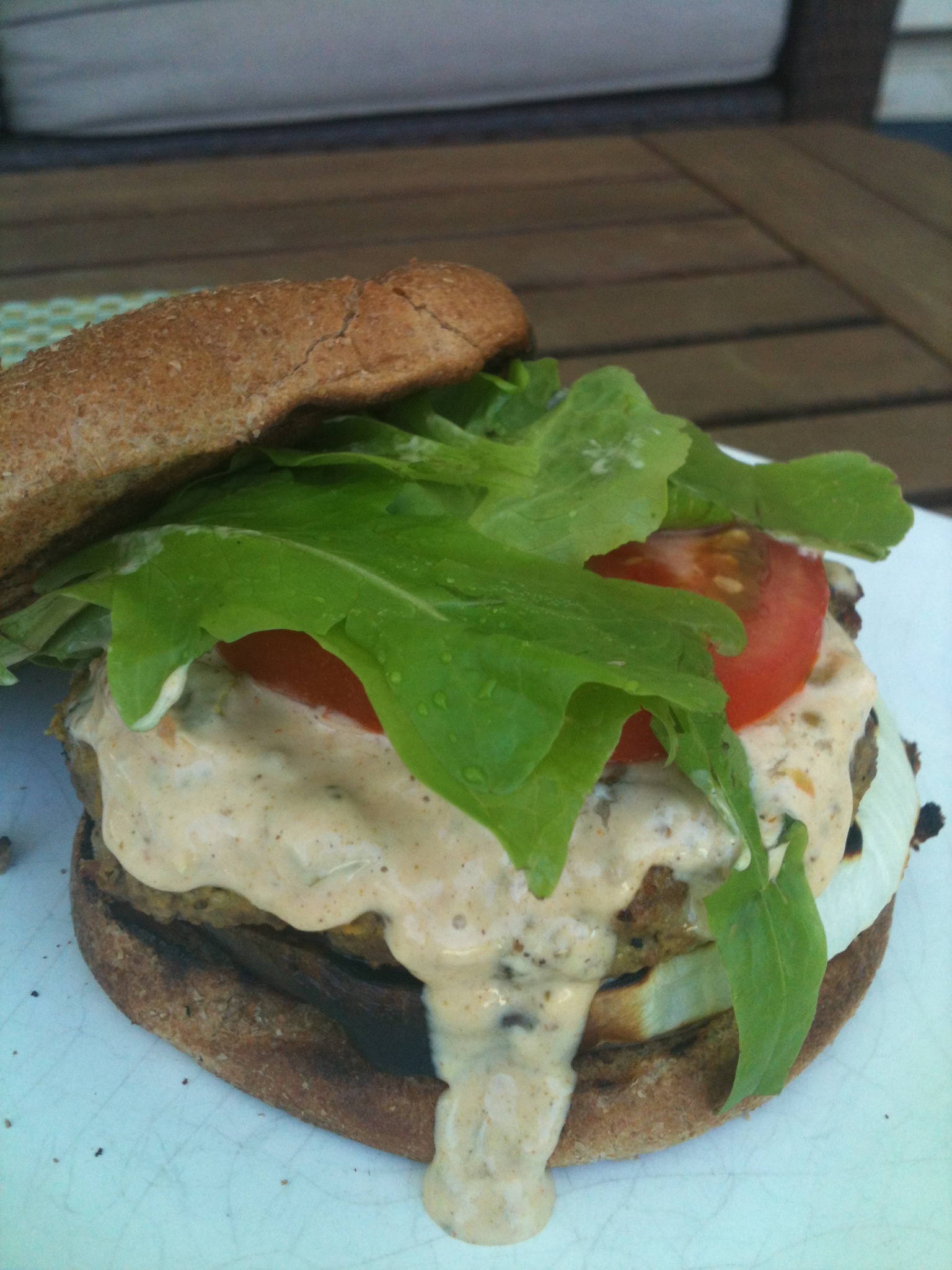 Author Notes: On a recent trip to California I had my first ever (yes, first - my brothers were shocked and appalled) InNOut burger. It was a good burger. What I did not know was apparently California's worst kept secret - the Secret Menu (which you can find online by googling InNOut secret menu) - had I known I would have ordered my burger Animal Style - mustard grilled with onions and special sauce. Sounds delicious. So I decided to make one for myself - using organic bison and hothouse tomatoes from the farmers market, lettuce from my garden, Texas 1015 sweet onion, whole grain buns, and good old yellow mustard. Good stuff. As an aside, these are gigantic. I did not finish mine, and Ginger and I shared. But go for it! Or - downsize them. - aargersi
Serves 2 humongous ridiculous burgers
1

pound ground bison (or grassfed beef if you can't get bison)

3

tablespoons yellow mustard

salt an pepper

2

thick slices of a sweet onion - whichever is best in your area

2

slices of a very good tomato

1

tablespoon mayonaise

1

tablespoon ketchup

1

tablespoon chow chow or sweet hot relish - I used Miss Ginsu'd outstanding green tomato chow chow which I can and have avaiilable at all times: http://www.food52.com/recipes/424_spicy_green_tomato_chow_chow

lettuce

hamburger pickles

2

whole wheat hamburger buns
Mix the meat with a generous pinch of salt an pepper and a tablespoon of mustard. Form 2 gigantic patties (or 4 smaller ones if you want normal sized burgers - if you do you will need more of the onion, lettuce, tomato, and sauce). Coat each patty with a tablespoon of mustard and then put them in the fridge to rest a bit.
Fire up the grill.
Mix the mayo, ketchup and chow-chow. Walla! Special Sauce!
Brush the grill with oil. Grill the burgers to your desired done-ness. While the burgers are grilling you also want to grill your slabs of onion. Right when they are done, toast your buns too.
Assemble: Bottom bun, onion, burger, sauce, pickles, tomato, lettuce, top bun. Eat like a wild animal.