Hot Buttered Maple Hazelnut Pie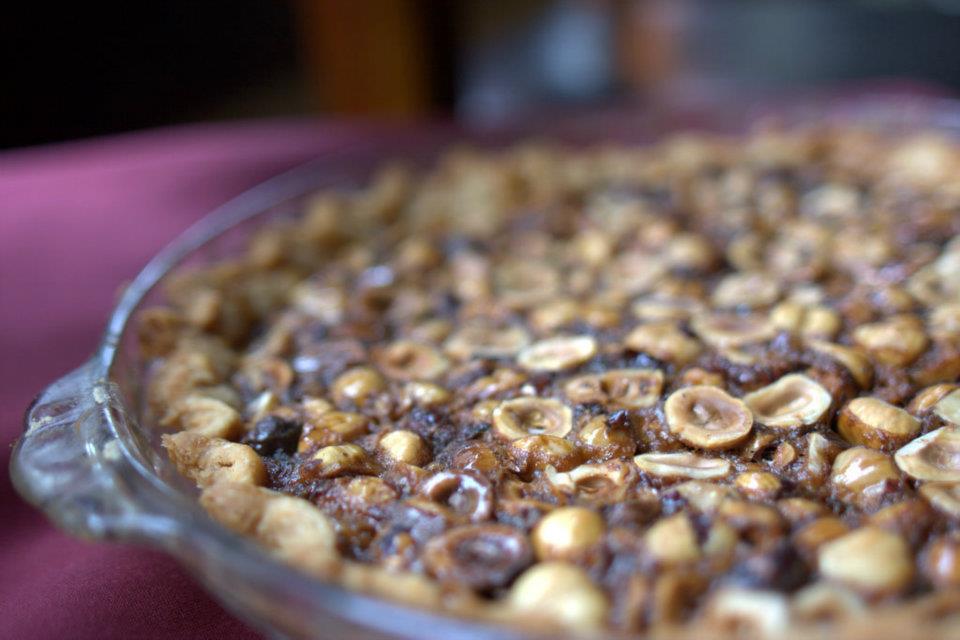 Author Notes: I came across this recipe from Bon Appetit some years ago and all I had to see were the words maple, hazelnut, and pie together to get me in the kitchen. I've adapted the original recips to make it a spicier, zingier and maplier (OK, that's totally not a word, but it should be). It's now something like a more grown-up and sophisticated pecan pie, with the deep flavor of maple leading the way. I recommend using grade B maple syrup for this recipe -- you'll get a very deep, rich flavor from it. Also, I've become a big fan of using leaf lard in my pastry -- this pie is an especially good example of what it can bring to pastries. The crust shatters into flaky goodness and there's just a whisper of savoriness that really compliments the maple. But, of course, if you're lard averse, you may simply replace the lard with an equal amount of butter. - vrunka
Serves 8
Pie Crust
1

cup flour

4

tablespoons leaf lard (or butter)

4

tablespoons butter

3-5

tablespoons ice cold water
Using a pastry blender or food processor, combine butter, lard and flour until the mixture has the texture of coarse cornmeal. Add the water one tablespoon at a time. Once the dough starts to come together, stop adding water. Turn out the dough on a clean work surface. Work into a ball, cover with plastic wrap and refrigerate for at least an hour.
Roll out the dough and place it in a 9-inch pie pan. Be sure to leave plenty of extra at the edges to make a decorative rim.
Maple Hazelnut Filling
1

cup maple syrup

3/4

cups brown sugar

1/2

teaspoon salt

2

tablespoons rum

1

teaspoon grated ginger

2

teaspoons lemon zest

6

tablespoons salted butter, cut in cubes

1-1/2

cup raw hazelnuts

4

eggs
In a medium saucepan, add the maple syrup, brown sugar and salt. Bring to a low boil and stir until everything is dissolved and incorporated. Reduce heat to low and reduce for 5 minutes, stirring frequently. Add run, ginger, and lemon zest. Stir to combine. Add butter a few cubes at a time, whisking after each addition. Remove from heat and allow to cool at least 30 minutes (longer if you can wait).
Preheat oven to 400 degrees. Spread hazelnuts on a baking sheet and roast for about 10-15 minutes until the hazelnuts become slightly brown and fragrant. Remove them from the oven and immediately cover spread them on a clean kitchen towel. Bundle up the hazelnuts in the towel and allow to rest about 5-10 minutes. Vigorously rub the towel to loosen the hazelnut skins (careful not to let your hazelnuts fly everywhere!). This won't get the nuts completely de-skinned, but it'll be close enough. Separate the nuts and the skins. Set aside. Reduce oven heat to 350 degrees.
Remove from oven and allow to cool completely before slicing.Scatter hazelnuts across the bottom of your prepared pie crust (see recipe below). In a large mixing bowl, whisk the eggs. Slowly pour the maple mixture into egg mixture, whisking to incorporate. Pour this mixture over the hazelnuts. Set the pie on a baking sheet (just in case the filling boils over) and set the pie in the oven. Bake for approximately 1 hour, until the filling is pretty well set (give it the jiggle test - if you jiggle the pan and filling sloshes, it's not done. If the filling just jiggles, it's good!). Remove from oven and allow to cool completely before slicing.