Spring Fling Potato Salad
6
Save
If you like it, save it!
Save and organize all of the stuff you love in one place.
Got it!
If you like something…
Click the heart, it's called favoriting. Favorite the stuff you like.
Got it!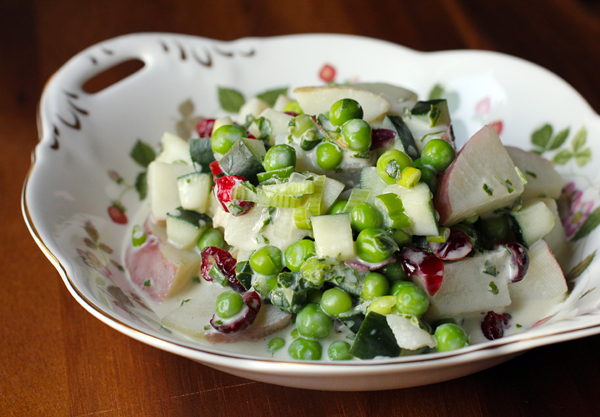 Author Notes: The bright, crisp flavors of early spring inspired this perfectly packable potato salad, with just a bit of creaminess to keep the chill off until the danger of frost has truly passed. - Wonderland Kitchen
Makes approx. 12 cups
For the salad
3

pounds red and gold waxy potatoes, cubed

1 1/2

cup green peas, frozen or fresh

1/3

cup dried cranberries

2

small cucumbers, seeded and diced

4

scallions, sliced

1/4

cup sliced almonds
For the dressing
3

tablespoons white balsamic vinegar

2

tablespoons pomegranate molasses

2

teaspoons kosher salt

generous handful fresh basil

leaves from a few springs of fresh mint

3/4

cups buttermilk, plus additional as needed

3/4

cups mayonnaise
Boil the cubed potatoes until just fork tender, about ten minutes. Drain and reserve.
While potatoes cook, bring a second pot of water to a boil and blanch peas for one minute, then drain and plunge them into an ice water bath to shock and stop the cooking. Set aside.
To make the dressing, place vinegar, pomegranate molasses, salt, and herbs in the small bowl of a food processor and pulse until leaves are minced. Combine this mixture with the buttermilk and mayonnaise in a jar with a tight-fitting lid and shake until dressing is well mixed. Thin dressing with additional buttermilk as needed.
In a large bowl, place potatoes, peas, cranberries, cucumbers, scallions, and sliced almonds. Toss with enough of the dressing to coat. Chill until ready to serve.
Jump to

Comments

(

1

)