Spicy Sweet Potato Colcannon with Pancetta
26
Save
If you like it, save it!
Save and organize all of the stuff you love in one place.
Got it!
If you like something…
Click the heart, it's called favoriting. Favorite the stuff you like.
Got it!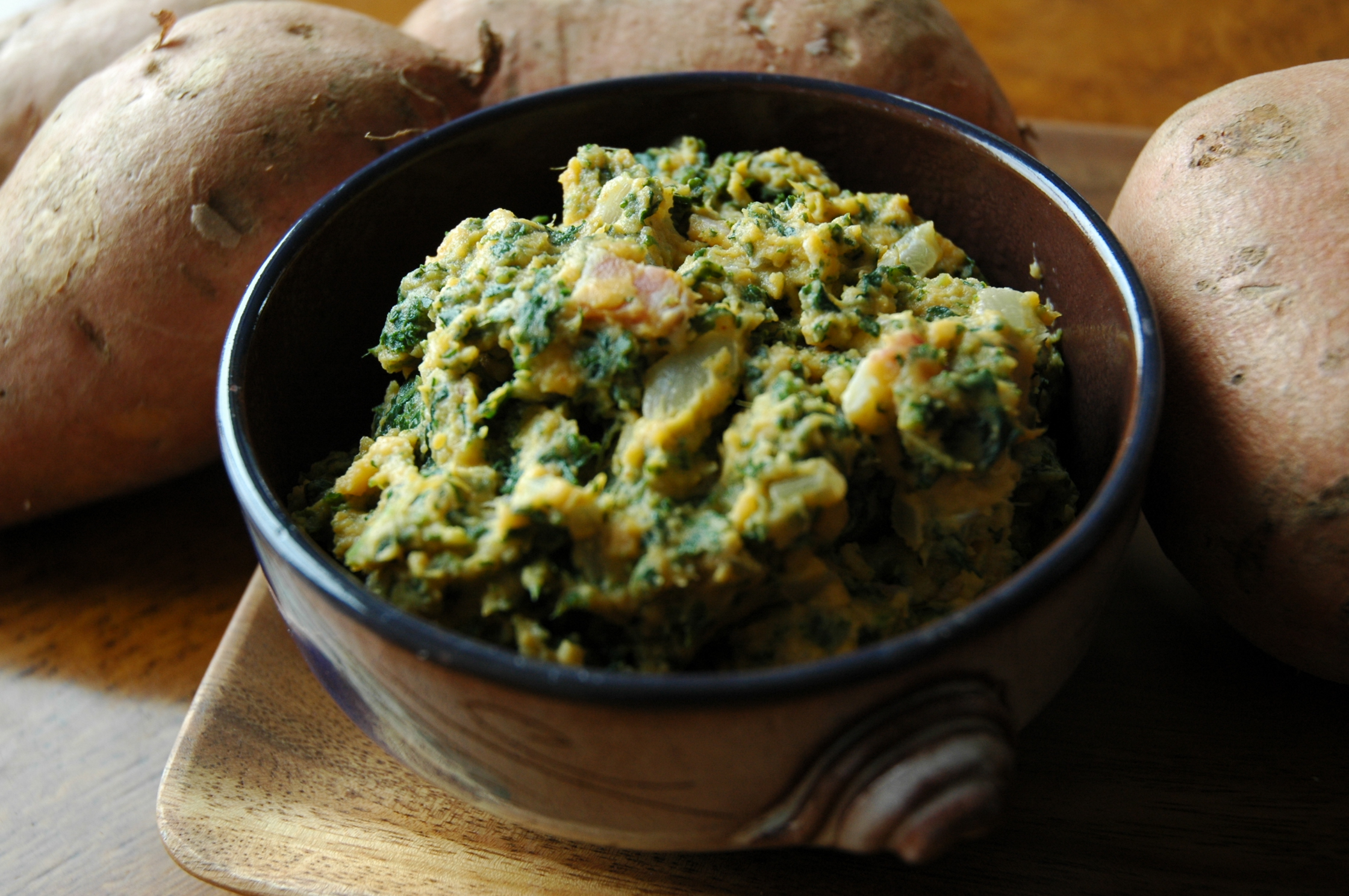 Author Notes: This recipe began as a riff on traditional Irish Colcannon--a dish of potato, cabbage (or kale), and onion. Colcannon is typically served at Halloween time, which coincides with the Celtic harvest celebration, Samhain. A bit of fortune-telling legend is also attached to the dish: a plain gold ring is hidden in the serving platter; the one who finds it will be married within the year. Here, Colcannon gets a boost of color and spice: the orange and green combine to lend visual interest (and a tribute to the Irish flag); the addition of cayenne pepper will have you doing a perfect Irish jig in no time. - Allison Cay Parker
Serves 4-6 as a side dish (makes 4 cups)
1/3

pound kale, rinsed well and stripped of coarse stems

1.5

pounds sweet potato, peeled and cut in 1/2" cubes

4

slices (1/8" thick) pancetta, diced

4

tablespoons butter

1

medium yellow onion, finely chopped

1/8

teaspoon cayenne pepper (or as much as 1/4 teaspoon, for more heat)

1/2

cup half-and-half (or substitute full cream or milk)

salt and pepper to taste
Cook kale in salted boiling water for 8 minutes. It should be tender and bright green. Drain well, squeeze out excess water, and chop fine.
Boil sweet potato in ample water, in a covered pot, for 15 minutes or until tender. Drain and pass through a potato ricer or food mill, into a large, heat-proof pot. (Note: If you have neither a ricer or mill, push potato through a sieve or otherwise be sure to mash thoroughly until smooth).
Add the chopped kale to the sweet potato. Season with salt and pepper to taste, keeping in mind that the inclusion of cayenne and pancetta later in the recipe will boost the levels of both salt and spice; be judicious.
In a medium skillet, over moderate heat, cook the pancetta until crisp but not browned. Remove using a slotted spoon and let drain on a paper towel.
In the same pan you used to cook the pancetta, melt the butter. Add onion and cayenne pepper and sautee over moderate heat, until onion is translucent and has lost its crunch. Set aside.
In a small saucepan, heat half-and-half, then beat into the sweet potato-kale mixture (I just used a fork, which worked best). Add the pancetta. Add the onion and the fat from the pan. Combine all ingredients well, and keep warm (or reheat over low flame).
This dish may be prepared in advance. In fact, it tastes even better the next day. Also, try pressing the potatoes into a pie plate and chilling overnight: the next day, cut into wedges and fry up in additional butter or oil to accompany a breakfast of scrambled eggs.
Jump to

Comments

(

6

)
Tags: can be made ahead, can be made ahead, fall, fall, Irish, spicy, Vegetarian