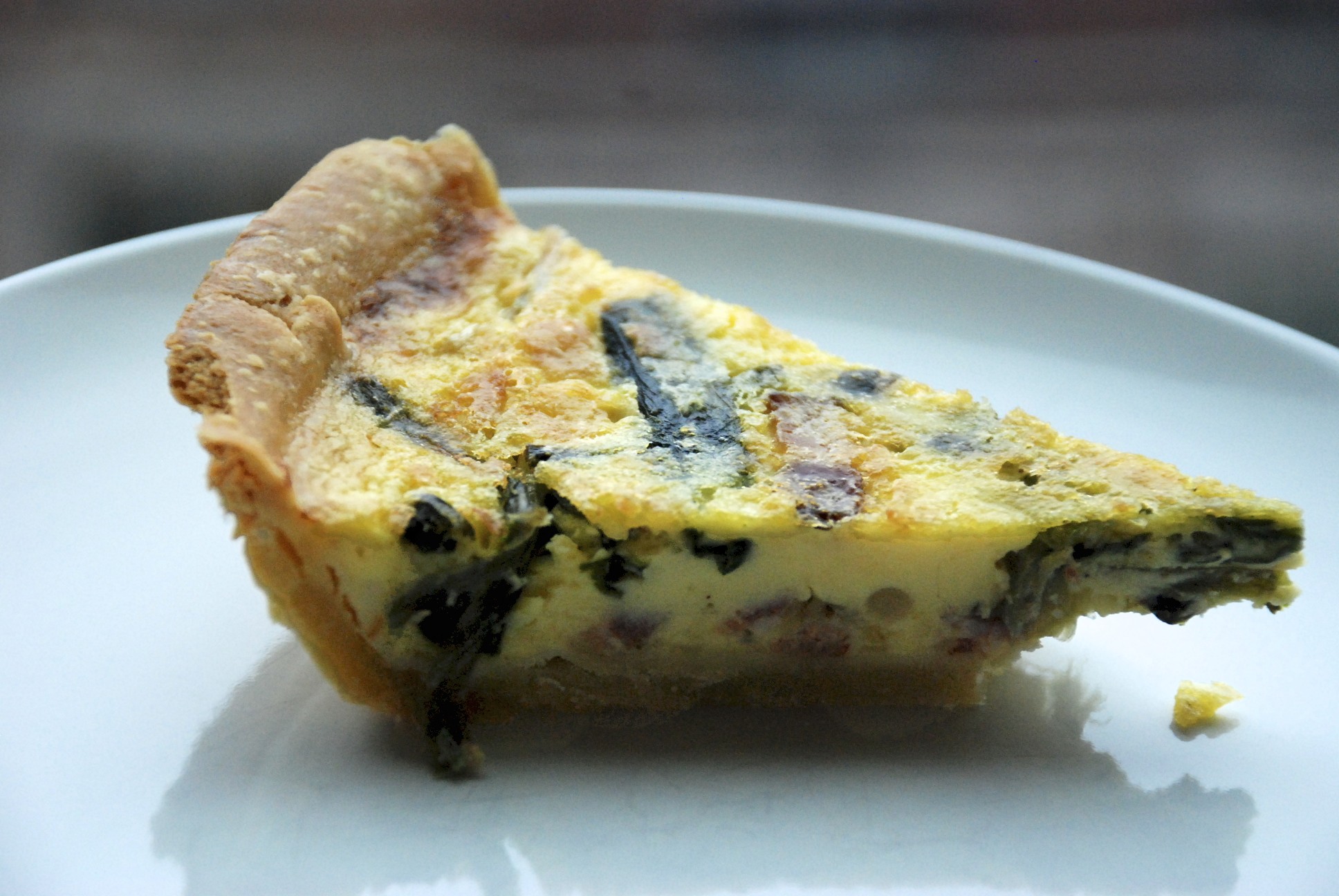 Author Notes: For some reason, spring feels like the time for quiche. Bacon and cheese are pretty classic quiche fillings (I love the fruity bite of aged Comté), but ramps make a very winning third ingredient. I like to serve my quiche next to a big salad, but some roasted potatoes wouldn't go amiss either. Here, the crust, as well as the egg/cream measurements, comes from the recipe I learned in culinary school. - cristinasciarra
Makes 1 quiche
short pastry crust
200 grams flour

100 grams butter (softened)

5 grams of salt

1 egg

2 tablespoons water
Quiche
5 pieces of bacon

1 bunch of ramps

1 tablespoon butter

1½ cup grated aged Comté cheese

3 eggs, as fresh as possible, divided

250ml cream

black pepper

nutmeg
Make the short pastry crust: Add the flour to a bowl. Make a little well in the flour, and add the softened butter and the salt. Add the beaten egg after that, and then the water. Mix everything together with your fingers.
When the dough starts to come together, knead it a little with the palm of your hand, but don't overdo it. Form the dough into a disk, and wrap it in plastic. Move the dough to the fridge for about 1 hour. (At least 1 hour; you could also do this the night before.)
Prepare the fillings: Cut the bacon strips into lardons (or little matchsticks). Over medium heat, fry the bacon until it's crispy. Set aside on a paper-towel lined plate.
Wash and dry the ramps. Cut them roughly into pieces. Simmer them in a little butter for a few minutes, until they become wilty. Set aside.
Using a microplane grater, shred up the cheese.
Blind bake the crust: Preheat the oven to 400F. Roll out the pastry.
Fit the pastry into a pie dish or tart mold. You will need to weigh down the center, so the pastry doesn't puff up. (I use dried beans on top of a greased up sheet of aluminum foil, but feel free to customize.)
Blind bake the pastry for 10 minutes. Meanwhile, make an eggwash with 1 beaten egg and a little water.
After 10 minutes, remove the pastry from the oven, and brush it all over with the eggwash. Cook it for another 5-6 minutes.
Fill the tart: In a medium bowl, mix together the remaining 3 eggs with the cream. Add some black pepper and nutmeg.
Spread the bacon, cheese and ramps evenly inside the tart shell. Then pour the egg/cream mixture on top. Use your fingers to make sure the bacon, cheese and ramps are evenly spread.
Cook the quiche at 400F for 15 minutes. Lower the oven to 350F, and cook for another 15 minutes. When the quiche comes out of the oven, it should be pretty firm to the touch. Let the quiche cool a bit before serving.
Jump to

Comments

(

0

)