Kimchi and Green Onion Fried Rice with Chive Spoon Sauce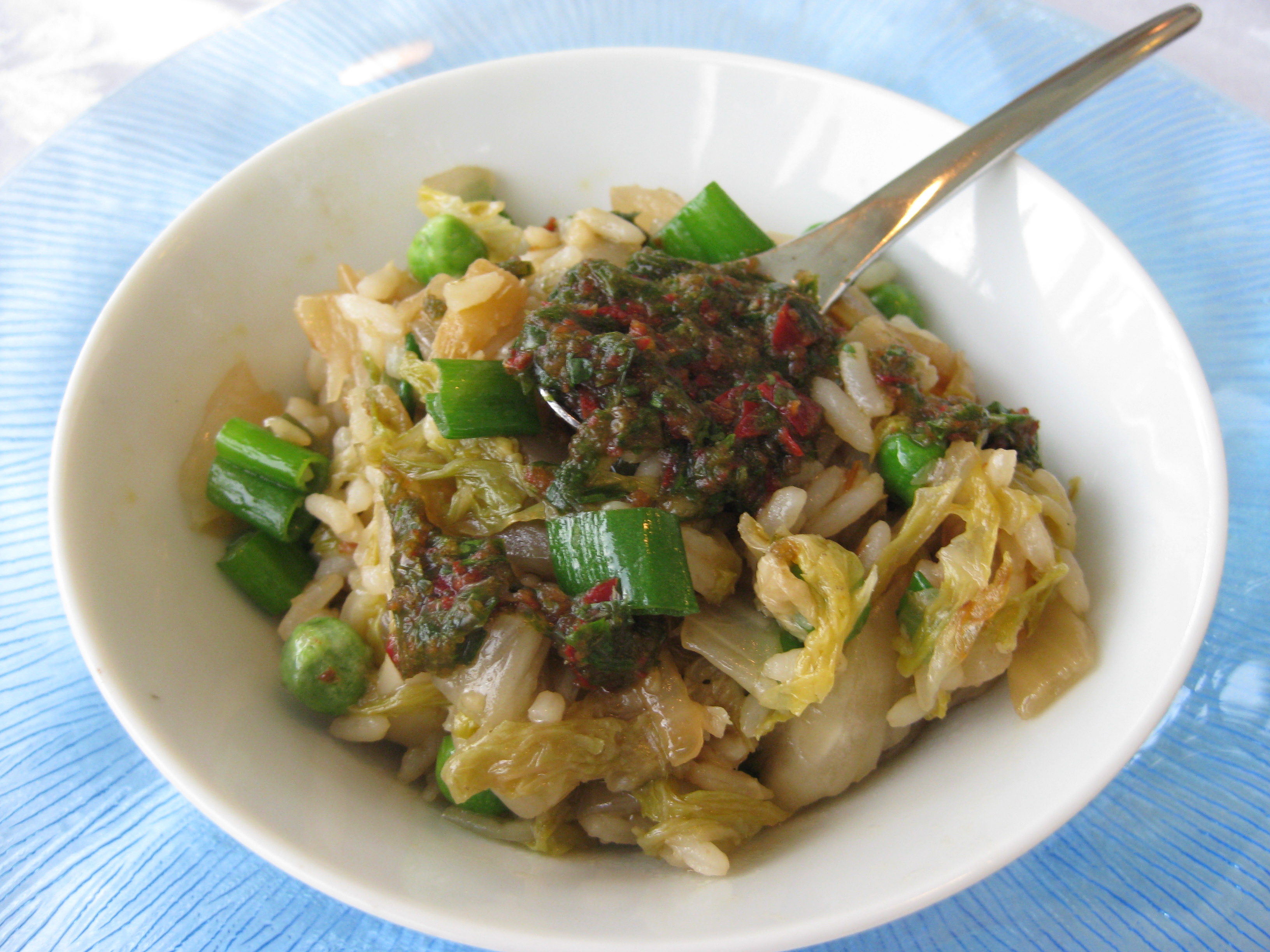 Author Notes: I have been playing with kimchi fried rice lately - I am not really sure why? It just sounded good. (it is) And so this week I decided to make a sort of Asianey sauce to spoon on top and amp it up a bit. Delicious results! You could add some crisped up tofu or cooked chicken or pork and easily turn this into a one pot dinner. Oh and you should know that the sauce is delicious over grilled pork chops, too. This recipe is dedicated to my brother Ben, who got me started making my own kimchi. - aargersi
Serves 4 sides
Chive Spoon Over Sauce
1/2

cup roughly chopped fresh chives

1-2

fresno peppers - seeded (1 for less heat 2 for more - guess which way I went?) - if you can't get Fresnos you can use jalapenos (less heat) or serranos (more heat)

2

tablespoons lime juice (about 1 lime worth)

1

tablespoon fish sauce

1

teaspoon agave syrup (use less if you sub honey, which is sweeter)

1

teaspoon chopped fresh mint

1

teaspoon chopped fresh cilantro
Put everything in the processor (I have a mini that is perfect for just such occasions) or else diligently chop and mix like mad. Put in the fridge until just before dinner time. Take it out a bit before serving so it isn't ice cold.
Kimchi and Green Onion Fried Rice
1

pint kimchi - drained and roughly chopped

1

cup cooked white rice

1

cup sliced white or yellow onion

1/2

cup green peas - fresh if you can find them, frozen if not

2

tablespoons grape seed or other neutral oil

1

cup chopped green onion - green and pale green only

1

pinch salt
Heat a wok or large skillet to med-high. and add the oil and onions. Season with a pinch of salt. Cook the onions until they caramelize, stirring often but not constantly.
Now push the onions to the edge of the pan and add the kimchi. Leave it alone for a couple of minutes so any extra liquid can evaporate, then stir everything together and cook 2-3 minutes. Push everything out to the edges.
Add in the rice and leave it alone for a minute or so. Then stir everything together again and continue to cook - what you want to do is flirt with danger but not burn everything, so you are getting some good browning on the bottom - sort of like a socarrat on paella - then stirring that in. Keep this up for 7-8 minutes.
Now stir in the peas and cook until they are just hot. Stir in the green onions and turn OFF the heat. The idea here is to have warm, softened green onions that have not been cooked to death.
To serve - scoop up some kimchi rice, spoon some sauce over, and dive in!
Jump to

Comments

(

6

)